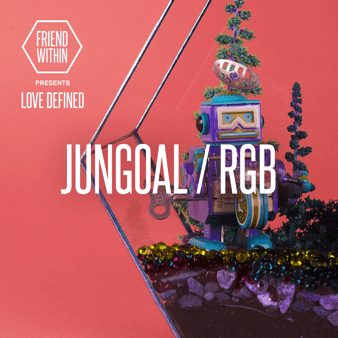 Friend Within - Jungoal
Today Friend Within announces Love Defined, his first extended solo project and teases it with the release of 'Jungoal'. A bubbling, synth heavy banger infused with traditional African vocal samples and percussion, 'Jungoal' is the first track to be revealed from this 20-track playlist slated for release on 26th January 2018 via his own imprint,He Loves You. Speaking on the track, Friend Within says;
"Jungoal was created during the time I spent deep in the jungles of Africa. I recorded real African sticks hitting real African drums and that you just can't replicate in the studio. When I did return to the studio I realised I forgot to press record on my MP3 device so ended up using samples I found online and you really can't tell the difference. It's a fun tune."
The Love Defined playlist is the culmination of 18 months spent in the studio, writing new music and also tweaking old tracks that, in the words of Friend Within, 'span the house music spectrum as best I know'
"Some tracks are only weeks old whereas others stretch back to the very beginning of Friend Within. They all represent me and the sound I try to inhabit."
Love Defined, which includes his summer single 'RGB' rejects the standard static album format. Presented instead as a playlist with tracks added into it as time goes by, it is an ever-evolving body of work with a purpose to help define and provide a bigger understanding of Friend Within as an artist.
Dubbed the 'producer's producer', Friend Within's penchant for underground party music with a commercial edge has led him to release on a variety of labels throughout his career including DFTD, Rinse, Dirtybird, PETS, Hypercolour, Method Records. He's toured worldwide, hitting some of the world's biggest venues and parties including The Warehouse Project, Fabric, The Holy Ship! and EDC Mexico.
With the imminent release of Love Defined, Friend Within shows no signs of slowing down in momentum.
You can catch Friend Within playing at Camden Assembly Hall on December 30th, 2017.