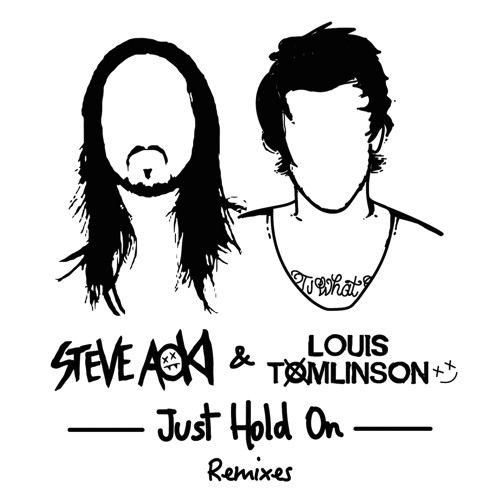 Steve Aoki & Louis Tomlinson - Just Hold On (DVBBS Remix)
Chances are you've heard a lot about DVBBS recently. The brothers have been on fire as of late, releasing a standout EP in the form of their latest "Beautiful Disaster," followed by a candid interview on AOL to discuss the makings of the EP-including producing in a studio in the jungle in Thailand. This time they're coming to us with an incredible remix of Steve Aoki & Louis Tomlinson's "Just Hold On," out on Ultra Music. The original track reached #1 in 43 countries on its release day, and Steve Aoki & Louis Tomlinson have performed the track live on The Tonight Show with Jimmy Fallon, the Today Show and The Late Late Show with James Corden. While it is challenging to remix such a high-profile song, DVBBS managed to create a rendition that keeps the integrity of the original while giving it an exciting, party-friendly vibe. DVBBS are absolute maestros when it comes to creating dynamic tracks, never failing to surprise and impress fans and industry tastemakers alike. They are wasting no time creating new music-their upcoming collaborations include 2 Chainz, Cody Simpson, and NERVO. Talk about musical diversity! Fans can catch DVBBS live on their last few tour dates this winter in Colorado, Georgia and California.
Few producers have risen to the top in the electronic music scene as quickly as DVBBS, who captured the industry's attention with their first hit "Gold Skies" and never let it go. The Canadian brothers Alex and Christopher have been continuously cultivating their sound since their debut in 2012; their latest EP, "Beautiful Disaster," is the most dynamic display of their musical prowess yet. For the EP the duo recruited various guest collaborators, including hip hop superstar Juicy J as well as Stella Rio, Gia Koka and Ramriddlz. DVBBS effectively breaks the mold on "Beautiful Disaster" with sounds that range from the gorgeous, melodic vocals of "Wicked Ways" to the rap-laced party starter "Moonrock," to the wistful, groovy "Doja (No Lie)." DVBBS continues to diversify and evolve their sound with unique collaborations, once again showing us that you never know what they have up their sleeve.