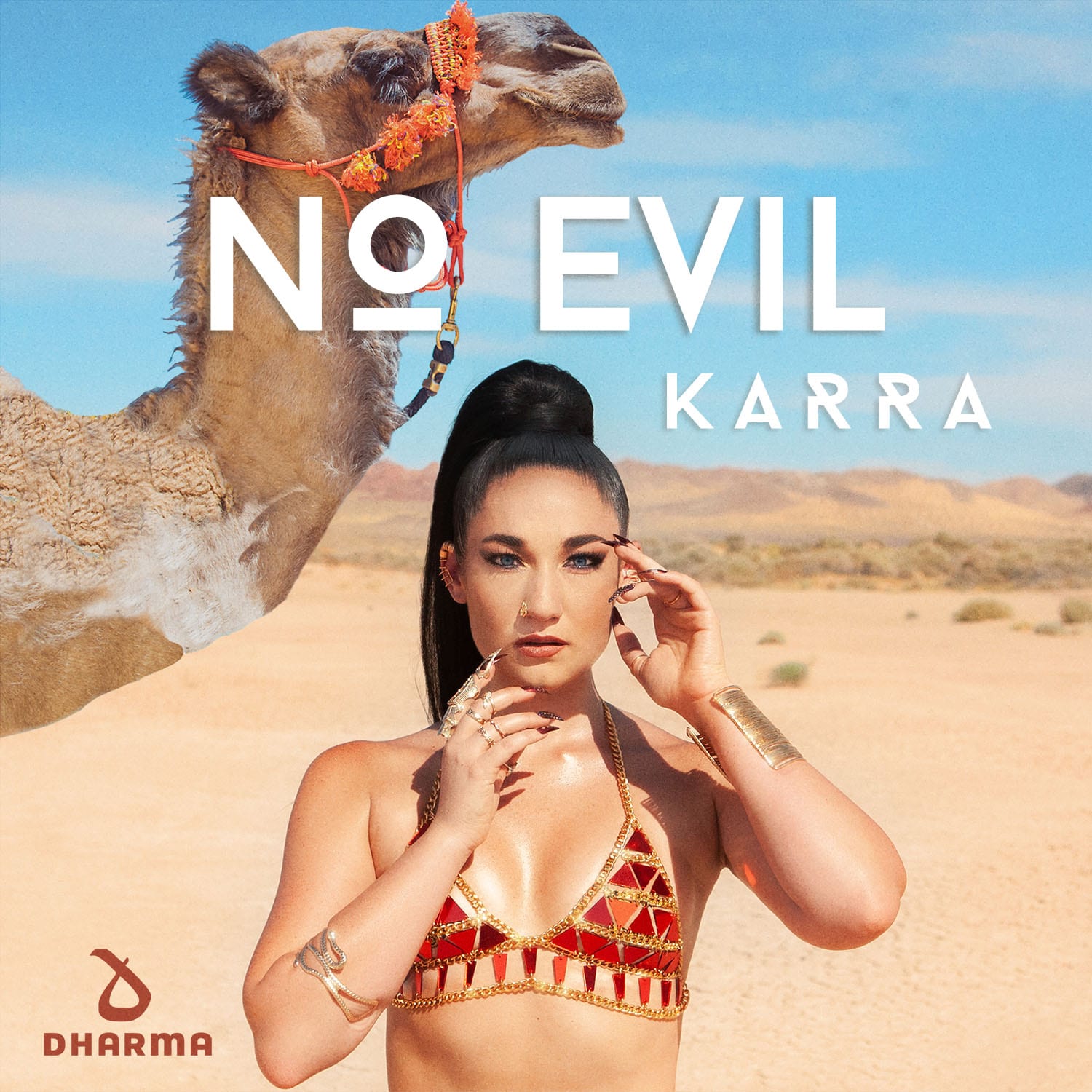 KARRA presents alluring and fierce 'No Evil'
Pop artist, songwriter, and vocal producer, KARRA offers a delight for the ears and unforgettable, powerhouse melodies with 'No Evil'. Released on infamously innovative KSHMR's imprint label Dharma, the American star served as a co-producer for 'No Evil'. The pairs like-minded productional sensibilities, made Dharma the perfect hub for the track to take shape. KARRA's chameleon like approach to the world of EDM shines in this record, leaving listeners curious for more. Out now on Dharma
'No Evil' is a track that is sure to keep you on your toes. Layered and distinct, dark, moody basslines set the tone for a fierce take on dance music. The result, a seamless blend of EDM and Pop. KARRA's vocal performance is un-pigeonholeable, as she gracefully flits from spitting bars, to sultry verses that break into airy, light melodies. A release with roller coast like qualities, 'No Lie' has an alluring mystery that sparks into up-tempo, fun beats and drops. In collaboration with legendary producer KSHMR, this latest release on Dharma is a true illustration of two exquisite productional forces coming together. To transport you into KARRA's extraordinary 'No Evil' world, fans can expect an epic music video to drop on 21 July – expect the unexpected.
"'No Evil' is an expression of carefree individuality by letting go of whatever 'evil' is holding you back." — KARRA explains
"KARRA just blows me away with her singing and writing. When she told me about launching her own artist project I jumped at the opportunity, I wanted to help however I could because I believe in her more than anybody. I'm proud to say we're partners now and I'll be co-producing and helping to oversee her project." — KSHMR explains
About KARRA
KARRA is a Los Angeles based artist, songwriter, and vocal producer who is known for her work on collaborations with KSHMR, Sam Feldt, Seven Lions, Armin Van Buuren, Alan Walker, Steve Aoki, Timbaland, and others. She is also renowned for having Splice's best-selling vocal packs, and has collaborated with the company on launching KARRA Presents, a new vocal label with Splice. Additional partnerships have included the likes of iZotope for their Nectar 3 plugin.
About KSHMR
Forward-thinking and pioneering producer, Niles Hollowell-Dhar is best known as KSHMR, a globally acclaimed artist from Berkeley, California, known for a signature sound merging electronic rhythms with ethnic West Asian instrumentation.
Collaborating with The Far East Movement and Dev, KSHMR's biggest commercial success came in 2010 as part of production duo The Cataracs, with the smash hit 'Like A G6' spending three weeks at #1 on the US Billboard Hot 100. As a solo artist, he is best known for 'Secrets', the huge 2015 collaboration with Tiesto that has racked up over 200 million Spotify streams to date. He has since produced a wealth of hit tracks, such as 'Megalodon', 'Burn', 'Karate' and 'Wildcard'.