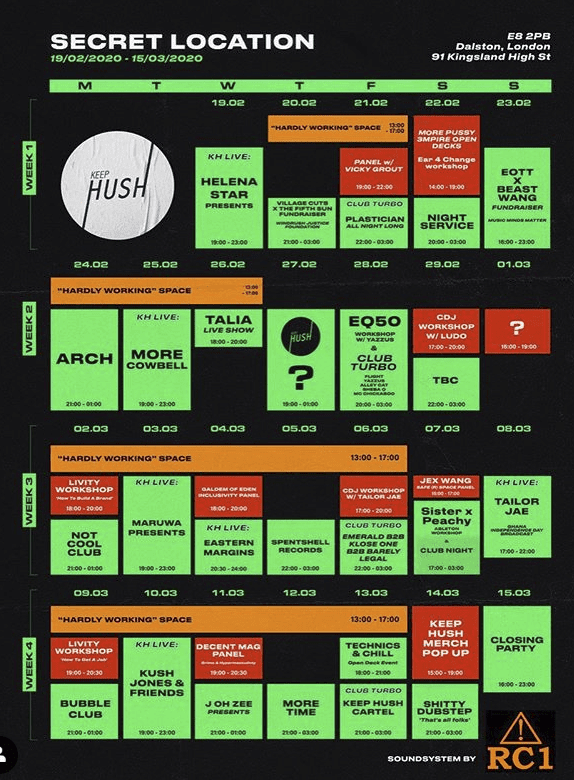 Keep Hush announce month-long 'SECRET LOCATION' project
🤫 KEEP HUSH : SECRET LOCATION 🤫
Music Member's Club Keep Hush bring their vision to life month-long 'SECRET LOCATION' Dalston pop-up featuring Kush Jones, Plastician, EQ50, Emerald, Nike, Vicky Grout, and much more
KEEP HUSH POP-UP || 19.02.2020 – 15.03.2020
Sign up to receive invites: www.keephush.net/apply
Born from the vision of founders Fred and Freddy back in 2013, Keep Hush started life as a blog and developed into a live-streaming experiment where the community is king. Fast forward, and Keep Hush is a household name for music heads; hosting regular parties and events watched the world over. Upping the levels this February, Keep Hush announce their biggest project yet – 'SECRET LOCATION' a four-week pop-up running from 19.02.2020 to 15.03.2020 out of Dalston, East London. Education, community and experience is key; with workshops, panels, club nights, live-streams, networking, and co-working all part of the agenda. Find Barely Legal, Jex Wang, Nike, Ableton, Plastician, Vicky Grout, Keep Hush (obviously) and more involved, plus more TBA.  Supporters Vita Coco will be providing their new CBD infused drinks for you to sample throughout the popup.
– SECRET LOCATION : WEEK 1 : 19.02.2020 – 23.02.2020 – 
Kicking off 'SECRET LOCATION' on 19.02.2020 there's a Keep Hush stream feat. Helena Star, much-loved resident of all-female radio station Foundation FM and 4-4 beat explorer. The following night, Village Cuts and The Fifth Sun takeover exploring blends of African, Caribbean and UK underground dance, with Friday welcoming OG Dubstep king Plastician to the basement for Club Turbo. The week rounds off with garage dubs from Night Service crew on Saturday, with a Music Minds Matter fundraiser hosted by Eott and Beastwang as a day > night Sunday session. All of this is powered by an RC1 soundsystem.
Non-club activities are strong; from the 20.02 each weekday from 1pm – 5pm the space transforms into a Networking / Co-working hub for those keen to connect with others. Iconic grime photographer Vicky Grout hosts a panel with industry advice based on her experiences, More Pussy present an Open Decks sesh and Ear 4 Change allows visitors to get crafty with an earring workshop.
– SECRET LOCATION : WEEK 2 : 24.02.2020 – 01.03.2020 – 
Moving into the second week there's another packed out agenda. Arch step up on Monday with the first club night, then Keep Hush lead the way on Tuesday with a live broadcast from breakout name More Cowbell. An intimate live show from Talia is down for Wednesday early doors; and moving into the night, London-born LGBQT club night Honeysuckle step up for a night of colourful sounds from the collective.  Nike and Keep Hush hold it down later in the week (more info to follow.) Expect Hi-NRG sounds as female-led DnB crew EQ50 takeover on Fri 28.02, with panel followed by hi-tempo, hi-energy club night perfect for the ex-Alibi space. Rounding off is a DJ Workshop from Ludo, then Keep Hush revert to their original format with a Family and Friends party on Sat, it'll be a journey from heaters to percys, with party-ready grime, hip hop, house, bass and disco and everything else.
– SECRET LOCATION : WEEK 3 : 02.03.2020 – 08.03.2020 – 
Things aren't slowing down as we enter the third week, with club crews and live shows on each day of the week. Find University College London's safe space initiative Not Cool Club, Flowdan's esteemed Spentshell Records, a Club Turbo feat. Emerald, Klose One and Barely Legal, and all out drag fabulousness from Dragastique all running from 02.03.2020 – 08.03.2020. On top of this, there'll be the two regular installments of the Keep Hush stream on Tuesday 03.03 with Maruwa, and the following day with Eastern Margins. Plus with a Ghana Independence Stream curated by Tailor Jae all day Sunday, a and the usual talks, workshops and sessions from Galdem of Eden, SISTER, Peachy and more tackling inclusivity, branding and other topics. Those wanting to break into the industry can gain valuable knowledge from these. 
– SECRET LOCATION : WEEK 3 : 09.03.2020 – 15.03.2020 – 
Last by no means least, the final week is another packed-out seven days of workshops, panels, club nights, live-streams, networking and co-working hours. True to their passion for inclusivity, Keep Hush are proud to host Bubble Club on Monday 09.03; an East London born club night for those with learning difficulties. Learn more about BC here. NY based footwork boss Kush Jones & Friends are the focus of the final Tuesday Keep Hush live session, with plenty 140bpm grime action with J Oh Zee late night Wednesday. Ahadadream and SNØW step up on Thursday with sonic MORE TIME RECORDS label selections, then Friday is the final Club Turbo which promises to be an all-out-action party from the collectives core. The finale weekend sees Shitty Dubstep, playing 'Shitty Tune Share For Us Wastes Who Like Dubstep,' and keep your eyes peeled for the very last party on the Sunday. Other bits of not miss include the 'How The Find A Job' panel, merch pop up, and the 'Technics and Chill' open decks. 
– NETWORKING / CO-WORKING SPACE –
Starting from 20.02, each weekday the 'SECRET LOCATION' space will be transformed into an area for people to connect, network and meet like-minded folks.
– KEEP HUSH –
A passion project from Fred and Freddy, Keep Hush is a testament to the hard work and dedication from two underground music aficionados. Set up in 2013, KH was originally a members club with a desire to unite like-minded music lovers through intimate events and a community that lives online and in real life, Keep Hush now has over 11,000 members, has partnered with brands including Nike and Nandos and live streams to thousands all over the world. 
KEEP HUSH invite you to join them – become a member for free to receive invites: www.keephush.net/apply
Big love, Fred and Freddy x 
<iframe width="560″ height="315″ src="https://www.youtube.com/embed/XmZvGxGTobw" frameborder="0″ allow="accelerometer; autoplay; encrypted-media; gyroscope; picture-in-picture" allowfullscreen></iframe>