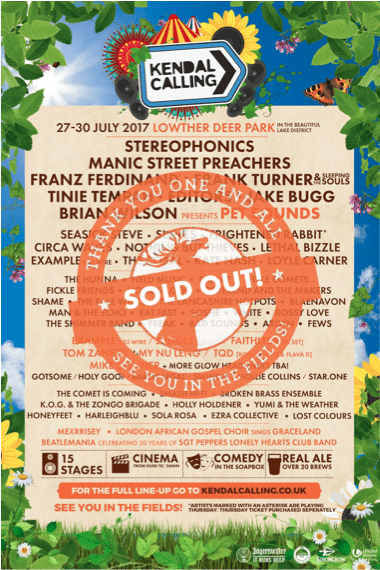 Kendal Calling 2017 SOLD OUT In Record Time
Having very recently announced no fewer than six massive headliners for this year's festival alongside a huge supporting lineup, Kendal Calling 2017 has completely SOLD OUT all 25,000 tickets for the 12th consecutive time, all in just over a week from announcing!

Eager revelers who acted quickly will get the chance to see Franz Ferdinand, Stereophonics, Manic Street Preachers, Frank Turner and The Sleeping Souls, Tinie Tempah and one last opportunity to witness Beach Boys legend Brian Wilson perform Pet Sounds in the surrounds of the beautiful Lake District.

Ben Robinson, co-founder of Kendal Calling comments:

"The team are truly humbled by the reaction to this years line up and we'd like to thank everyone who has bought tickets to make this our 12th successive sell out!

We'll be keeping our heads down over the next 6 months working hard to make this the best festival possible. We have a lot more amazing artists and field based antics still to announce so keep your eyes peeled. We can't wait to see everyone in the fields!"

Kendal Calling has also become the first festival to go virtual in Google Maps! Tour.Media and Google Street View have captured the entire festival allowing festival fans who missed out on tickets to take a simulated walk around the site.

If you've ever wondered what it's like to perform in front of thousands of people then just hop on the main stage with the Sugar Hill Gang or discover where the VIP's hang out by simply walking past security. Anyone can navigate through the festival by visiting http://www.kendalcalling.co.uk/virtual-tour and then using the navigational arrows to move around the festival.

People who missed out on a ticket can subscribe to the resale list here: http://www.kendalcalling.co.uk/news/kendal-calling-2017-is-sold-out

Set in the incredible Lowther Deer Park, one of the UK's most beautiful festival sites, Kendal Calling will return to the Lake District for a stunning weekend music, art, comedy and more this July. Despite it being the 12th consecutive sell out for the award winning festival, the capacity will once again stay the same to retain Kendal Calling's unique atmosphere. Follow @KendalCalling and like the festival on Facebook for more info.