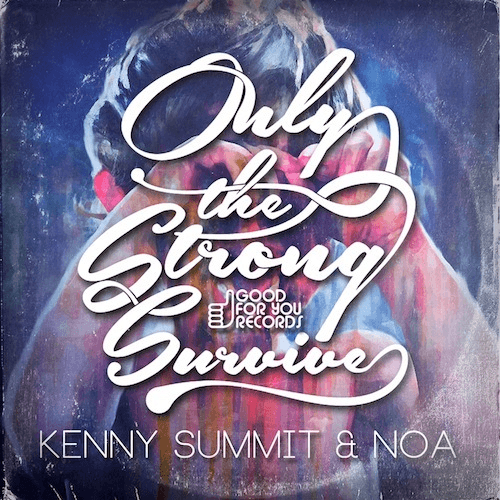 Kenny Summit & Noa – Only The Strong Survive
LA's Kenny Summit & Noa unleash a giant slab of disco fuelled peak time house, armed with a kick-ass funky bass and a cheeky vocal hook. 'Only The Strong Survive' comes packed with electric soaring breakdowns, deemed to make the dance floor explode!
Good For You Records boss, DJ and Producer, Kenny Summit, continues to focus on quality underground music. The releases on GFY along with his stable of artists speak for themselves: hiphop legends like Grand Puba and The Artifacts to house legends like Frankie Knuckles and Todd Terry, all present. In 2012 Kenny's reputation as a producer finally caught up with him as his 'Loving You' with Frankie Knuckles and Eric Kupper went to #1 on international house charts (and stayed there for over 2 months). Since then Kenny has released a string of underground goodies that have been embraced by house heads worldwide. Earlier this year Kenny joined forces with New York native Lenny RX to set up GFY Black Label, with their first release from Techno legend, Misjah. Forthcoming releases on GFY Black Label include Angel Moraes, J Paul Getto, Terrence Parker, Eddie Amador, Tedd Patterson, JR From Dallas, Lenny Rx and Kenny Summit – stay tuned!..
From Warehouse DJ to producer, Noa has enjoyed 15 years on stage, smashing some of the world's most renowned dance-floors; Club Bliss – St. Marteen, Venue – Greece, Space – Miami, Pacha – NYC… You've undoubtedly ruined a shirt or two, dancing to his signature tech-house sound. Noa has played along side: Sasha, Dave Seaman, Scott Henry, Tom Stephan, Peter Bailey, Luciano, Sarah Goldfarb, Frankie Bones, Alex Santer, Todd Gardner, Gonzo, Duce Martinez, Stefano Noferini, Dj Dove, Masi & Mello, That Kid Chris, Ivano Bellini, Chris Soul… With a list of collaborations, and remixes that include names like; Stonebridge, Roland Clark, Robin S, Jay-J, and Eddie Amador… It's no surprise, the name 'Noa' is heard on radio stations; from Spain to Japan.
TRACKLISTING
1. Only The Strong Survive
'Only The Strong Survive' will be released on Traxsource promo October 8th on 2013 on Good For You Records.