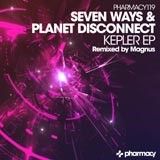 Seven Ways & Planet Disconnect - Kepler EP
DJ Seven Ways & Planet Disconnect are taking dance floors by storm once again with their most impressive release yet, Kepler which features a remix by Magnus. Following on the success of Creator and The Samurai, this powerhouse of a production team unleash another genre crossing trance masterpiece.
This EP is both a Staff Pick and Featured Release on Beatport this week, and has already been featured on Simon Patterson's Open Up and Sean Tyas's Degenerate Radio. Support is also in from tastemakers including Jordan Suckley, Alex M.O.R.P.H., John Askew, M.I.K.E., Thomas Datt and Mark Sherry to name a few. In other words, this release is shaping up to be a monster.
Kepler is hypnotic trance at it's best. A pumping baseline and swirling melodies give this track an elevating feel. Things get really interesting in the drop when the sinister sounding bells come in. Seven Ways and Planet Disconnect have created a real sonic journey with Kepler.
Adding his unique sound and amazing production skills to this release is Magnus, straight off the success of his remix of Lightwave by Jonathan Allyn. Magnus is a master of the remix, reworking the original and taking it to a whole new level. Magnus utilizes his gift for making hi-energy tracks combined with beautiful melodies that devastate dance floors to perfection on Kepler.
Rounding out the EP is the incredible Gravitational Drums by Seven Ways. Going solo on this track, Seven Ways unleashes all his creativity into an absolutely banging track that just explodes with energy thanks to the shimmering melody, slinky acid and pounding drums.