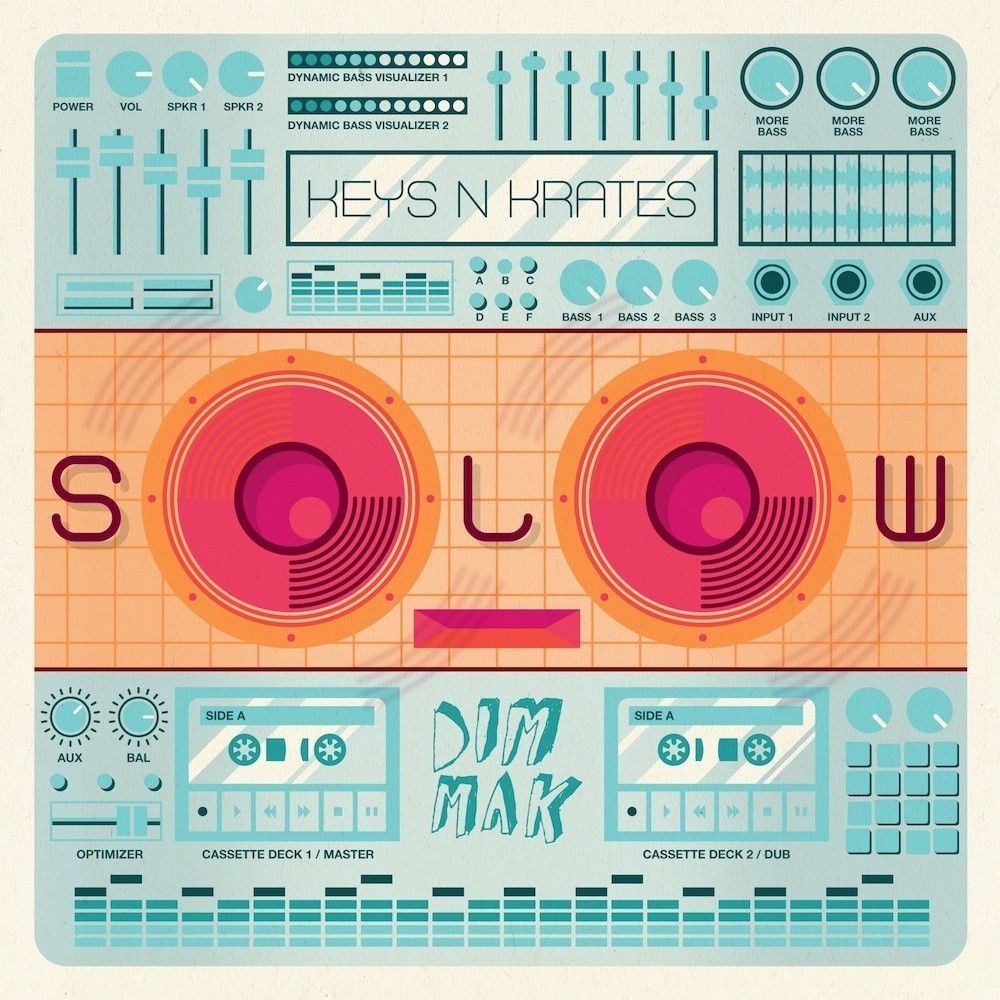 Keys N Krates 'SOLOW' EP
Toronto-based live electronic outfit Keys N Krates has announced the release of their newest project: the SoLow EP out today on Dim Mak Records. On the SoLow EP, Keys N Krates returns in full force with four diverse tracks that exemplify the group's unique style. The EP follows the major success of their critically acclaimed single and accompanying remix package "Treat Me Right," released in June via Dim Mak, which topped The Hype Machine upon its release and has since received continued support from influential artists in the electronic world, including Diplo and Major Lazer, Flosstradamus, TNGHT, and more. The remix from producer Grandtheft of "Treat Me Right," featured on the Treat Me Right EP, also reached #1 on the Beatport Electronica Top 100 chart.
To celebrate the release, Keys N Krates has partnered with BBC Radio 1 tastemaker DJ/radio personality Annie Mac to premiere their new track "Dum Dee Dum" on July 8 on her celebrated Free Music Monday series. Mixing the group's trademark blend of hip-hop, trap, and electronica influences, "Dum Dee Dum" is featured on the SoLow EP and will be released via Dim Mak as a single this summer (more info TBA soon). Says Annie Mac of the track, "So looking forward to playing this out in my sets. It's a really fun, bombastic record, looking forward to hearing more from Keys N Krates." Grab a free download of "Dum Dee Dum" here: http://smarturl.it/dg58hf.
Also featured on the SoLow EP are tracks "I Just Can't Deny"— an anthem built for stadium crowds and festival denizens alike—and the hip-hop heavy "Ratchet Hoes," which best illustrates Keys N Krates' dominance of the current electro-trap movement, as well as "Treat Me Right."
Best known for their energetic live performances, Keys N Krates have created an experimental sound unheard in electronic music today. The group — composed of Adam Tune on drums, synth-master David Matisse on keys, and internationally award-winning Jr. Flo on turntables — brings the experience to life via their fully live sets. Keys N Krates collage raw samples and twist them with live instrumentation, creating an inimitable sound and truly demonstrating the artistry of the live remix rarely seen in electronic music performance today.

Keys N Krates are currently on a world tour, which will take them to major clubs, venues, and music festivals this year, including performances at Lollapalooza, Hard Summer, Electric Zoo, and many more.
Buy link: http://bit.ly/1dlyLWg
About Keys N Krates:
Keys N Krates formed in 2008 out of a desire to do something different. They wanted to take the remix/electronic sound out of the studio and onto the stage, creating a new live electronica experience. Keys N Krates have toured across the globe and have performed at some of the world's top music festivals, including Ultra Music Festival, Movement Electronic Music Festival, Wakarusa, Osheaga and Sonar. The band has also produced remixes for Bassnectar, Adventure Club, Zeds Dead, and Nelly Furtado and has released a number of live, off-the-floor mixtapes. Keys N Krates reached worldwide mass appeal with their popular single "Treat Me Right." An epic trip through space, time, and romance novels, the track has received support from tastemaker DJ/radio personality Annie Mac on BBC Radio 1 as well as Diplo's influential "Diplo & Friends" show. Since then, the trap-tinged electronic/hip-hop hybrid group has been enjoying major support from the online sphere and has become a mainstay in the sets of big hitters such as Major Lazer, TNGHT, Diplo, Annie Mac and Salva. They have also been crowned #1 on Billboard's official "Next Big Sound" chart.
# # #
For more information on Keys N Krates, visit:
www.keysnkrates.com
www.facebook.com/keysnkrates
www.twitter.com/keysnkrates
www.youtube.com/keysnkratestv
www.soundcloud.com/keysnkrates
www.keysnkrates.tumblr.com
www.instagram.com/keysnkrates
Dim Mak Artist Page:
www.dimmak.com/artist/keys-n-krates
For more information on DIM MAK RECORDS, visit:
www.dimmak.com
www.facebook.com/dimmakrecs
www.twitter.com/dimmakrecs
www.youtube.com/dimmakrecords
www.soundcloud.com/dimmakrecords
www.instagram.com/dimmakrecs