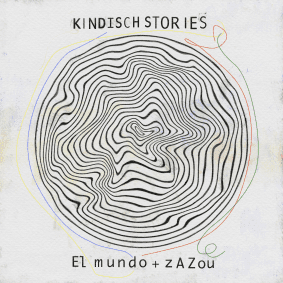 Kindisch Stories by El Mundo & Zazou
Kindisch welcome El Mundo & Zazou for the latest edition of 'Kindish Stories' with a fresh series of remixes that show off their broad skills.
El Mundo & Zazou made a big impression with their excellent 'Can You See What I See' track as part of the Words Don't Come Easy compilation on Get Physical last year. Following a re-release of the single with new remixes, they now come on strong on Kindisch with new and fantastic original versions of tracks by Art of Life, Feathered Sun, Lunar Disco and many more.
The pair kick off with their own ambient sci fi opener 'Intro' then serve up an epic slow motion deep house adventure with their loose and organic remix of 'He Is Behind Your Eyes.' The gorgeously deep and soulful grooves stay through the languid 'Get On' remix and their standout take on 'Revenge Of The Wankers' is a chugging, hypnotic affair with a mesmerising lead synth line.
The second half of the terrific musical trip features more spine-tingling deep house with tropical jungle overtones, sparse and absorbing late night grooves like their remix of 'Effigy' and uplifting, synth-lead classiness on a closing remix of 'Alexithymia' amongst other things.
This is a warm, cathartic listen that takes you deep into El Mundo & Zazo's emotional world of self-reflection and melancholia in real style.
Tracklist:
01 El Mundo & Zazou – Intro
02 Art Of Life – He Is Behind Your Eyes (El Mundo & Zazou Remix)
03 Feathered Sun – Get On (El Mundo & Zazou Remix)
04 Oceanis Orientalis – Revenge Of The Wankers (El Mundo & Zazou Remix)
05 Lunar Disco, Sucré Salé & Raw Main – Winterfell (El Mundo & Zazou Remix)
06 Nukreative – Effigy (El Mundo & Zazou Remix)
07 Sam Goku – Senlin (El Mundo & Zazou Remix)
08 Amir Telem – Words from the Spiritual World (El Mundo & Zazou Remix)
09 YokoO & Retza – Alexithymia (El Mundo & Zazou Remix)