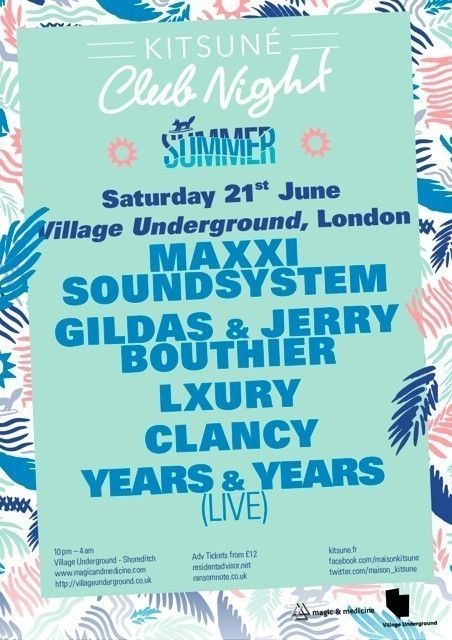 KITSUNE CLUB NIGHT "Summer Party"
Kitsuné Club Night return to East London to celebrate summer in their inimitable style with a special 'hot-as-hell' party taking place at Village Underground on 21st June and will feature a mouth watering line up designed to work up that seasonal sweat.
Once again the celebrated Parisian label, having sold out their Easter Special Party in April, return to Shoreditch with a phenomenal line up featuring Maxxi Soundsystem, Years & Years (Live), Gildas & Jerry Bouthier, Lxury and Clancy; looking to supply the dance floor with an infectious dose of quality house, electro and nu disco.
Headlining the festivities will be acclaimed Brighton producer, Maxxi Soundsystem, real name Sam Watts, who made his major break into the scene with the club smash, 'Criticise', which was picked up by Annie Mac amongst others. Described by XLR8R as "harkening back to '90s club sounds and the fabulous nature of that era", expect an entertaining, no holds barred performance not to be missed.
Joining Maxxi Soundsystem on stage will be NME favourites, Years & Years, with an exclusive indie dance live set. The London band recently released their second EP 'Real' on Kitsuné and had Dazed calling them "Pensive and sparkly, brimming with nigh time neon soaked passion".
Kitsuné's international resident Jerry Bouthier and label owner Gildas will delve into their bag of magical aural tricks for a jacked up, hands in the air back-to-back set, so get ready to throw some shapes and bust out those erratic dance moves. Also adhering to the label's ethos of discovering and promoting new talent, rising star Lxury a.k.a Andy Smith championed by the Disclosure brothers, will round off the festivities along with London deep house producer, Clancy recently featured on Kitsuné's New Faces compilation.
With such an array of in form artists providing the soundtrack to the night, this is one summer party not to be missed.
Facebook Event Page – https://www.facebook.com/events/1411253015814658/