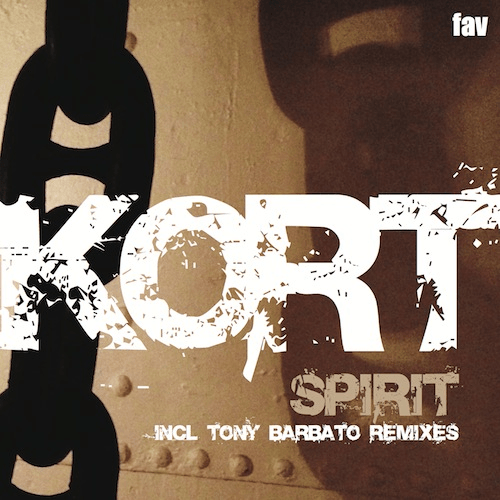 KORT – Spirit – (incl. Tony Barbato Remixes)
Unleashed like a caged tiger, KORT's new 'Spirit' single for Favouritizm come's bounding into the arena in bid to take centre stage, just in time for ADE! Armed with a HUUUUGE "chugga-chugga" bassline and a high octane gospel vocal hook, 'Spirit' blows a kiss to the heady days of 90's warehouse parties whilst boasting a fresh and gutsy engery to blow your pants off! Also on the package, Favouritizm's Italian house hero, Tony Barbato, lends his casa skills to the party, toying with the vocals, calling all 90's house spirits to the dance floor before dropping a haunting breakdown that ignites and explodes!
Talented UK production duo KORT, aka Ben Webb and Chris Jordan, are constantly pushing boundaries and developing their own roles within the studio partnership, dedicating themselves to their vision of quality house music with a distinctive feel. Since winning the Defected producers competition in 2011 and signing a publishing deal with Defected Music, they embarked upon a journey with Copyright Recordings, which started with the success of 'Tomorrow' and have seen several subsequent Traxsource number one's along the way. Their release on Copyright Recordings 'No Fear EP', built a buzz worldwide; the title track achieving Traxsource House chart Top 10, BBC RADIO 1 play courtesy of B.TRAITS , #2 in Miami week DMC Buzz Chart and featuring on Defected Presents Most Rated Miami 2013 among other compilations. The guys have also released on other labels including Lapsus, Kings OF Groove, The Brothers, Hi Rise, and Milk & Sugar, among others. With loads more tracks on the way KORT are looking to make 2013 a key year, building on what has gone before and using their experience, dedication and production skills to move forward creatively while keeping feet firmly planted on the dance floor!
Italian producer / DJ Tony Barbato released his Favouritizm debut 'Hoben' in Autumn 2012 reaching the No. 3 on Traxsource.com. This was followed by 'Jump' in March 2012, again hitting the No.3 chart spot. Tony has since gone to to release a number of EP's for the label including 'The Tuscan EP' and the 'Marula EP, before unleashing the mighty '1961' deep house smash, which included remixes from Alexander Barck (Jazzaonova) and Patrick Podage. Tony is busy working in the studio on some exciting new projects – watch this space for details!
https://twitter.com/KORT_UK :: http://www.kort.co/ :: https://soundcloud.com/k-o-r-t
https://twitter.com/favouritizm :: https://www.facebook.com/pages/Favouritizm/472495952812016
TRACK LISTING
1 Spirit – Original
2 Spirit – Instrumental
3 Spirit – Tony Barbato Remix
4 Spirit – Tony Barbato Instrumental Remix
'Spirit' will be released on Traxsource promo November 4th / full release November 25th 2013 on Favouritizm.