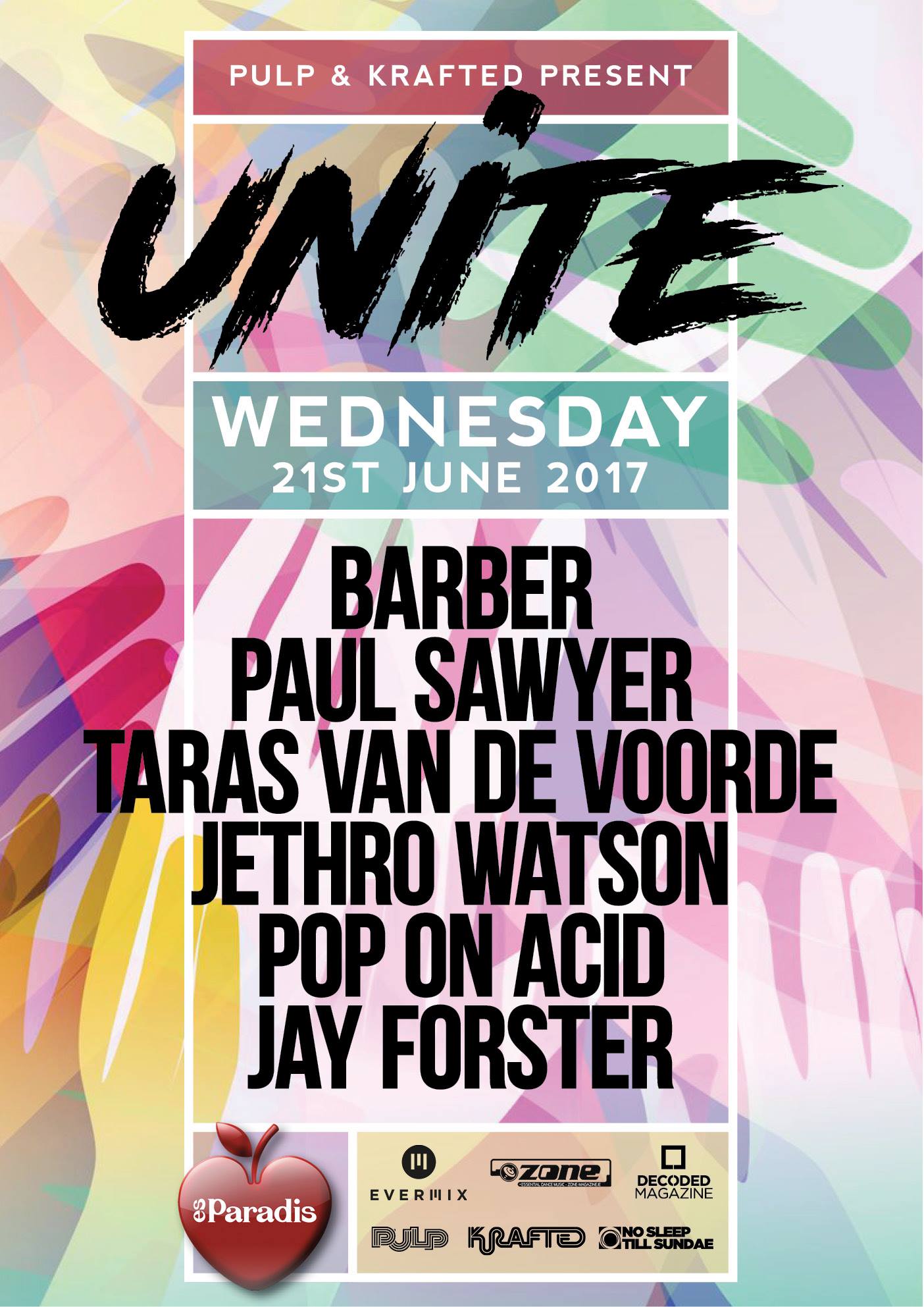 Krafted and Pulp present The Launch of 'UNITE'
After a chance meeting at Amsterdam Dance Event (ADE) in 2015, Rotterdam's Dirk Schmidt & Wiebe Kuipers and Krafted owners Paul Sawyer & Darren Braddick have fused a musical relationship ever since.
Dirk and Wiebe famed for their clubs Bahn and Trash in the heart of the Dutch City, their endeavours are notorious for creating eccentric spaces showcasing some of the world's biggest DJ's whilst promoting the electronic underground scene.
Supporting each other's events in both nations at various clubs including Ministry of Sound, Toffler and more, the time has arrived to present their collaboration celebrating unity between all cultures and nations, known as UNITE.
Where better to do this, than the White Isle itself, Ibiza. Es Paradis was chosen for its beautiful interior, in the heart of San Antonio where the club has been a staple in what is described as the most fundamental core of the house music scene for over 30 years.
Most recently, Krafted have gained notorious support for their label releases by Pete Tong and Kolsch on Radio One, as well as numerous plays from Mark Knight on Toolroom Radio and much of their music has been licensed to Toolroom for inclusion on their renowned compilations.
With artists on the Krafted labels including Doorly, D-Formation, D Ramirez, Made By Pete, Dave Seaman, Blood Groove & Kikis, Third Son, D-Nox & Beckers, Lucien Foort and many more illustrious producers, their label group have enjoyed support from all corners of the globe.
The launch party features acts including Berlin based DJ/Producer Barber who's recent releases have been signed to Elrow, Suara, OFF, Nervous and Cubism; Krafted label partner Paul Sawyer, who's most recent EP on Juicy Music / Armada shot to #1 in the UK Club Chart; Rotterdam's Taras Van De Voorde, a versatile house/techno dj/producer with releases on Defected, Suara, Rebirth plus more; Jethro Watson, a UK based DJ who has been playing at Elrow, Switch, Ants parties; Pop On Acid, the founder member of Bahn and Trash who's recent events include dates in China, Burning Man; Jay Forster, producer at BBC Radio 1 and no stranger to the White Isle and recent events at Ministry of Sound.
UNITE
Wednesday 21st June 2017
Doors open at Midnight
Es Paradis, Sant Antoni de Portmany, Ibiza
Barber I Paul Sawyer I Taras Van De Voorde I Jethro Watson I Pop On Acid I Jay Forster
Tickets on Sale: https://www.esparadis.com/en/tickets-esparadis-ibiza.html
Connect with Krafted / Pulp:
Krafted FB: https://www.facebook.com/EJUnderground/
Pulp FB: https://www.facebook.com/pulprotterdam/