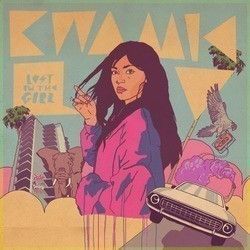 Kwamie Liv – Lost in the Girl
Kwamie Liv is fast proving herself to be an exciting voice in music today, a voice imbued with experience having lived between Denmark, Zambia, Turkey, Sweden, South Africa, Kenya, Ireland and Bangladesh.

Kwamie's down-tempo and intimate trip-hop/R&B early offerings 'Follow You' and '5AM' set her out as one to watch. Yet it was the shrapnel-sharp 'comin THRU' which caught the attention of Zane Lowe, who made it his Next Hype record.

'Lost in the Girl' Kwamie's debut EP further proves her flair for experimentation and determination to exceed expectations. 'Lost in the Girl' was created from nothing, freely and in the very heart of Christiania in Copenhagen. Available for free download now and on iTunes August 26th.