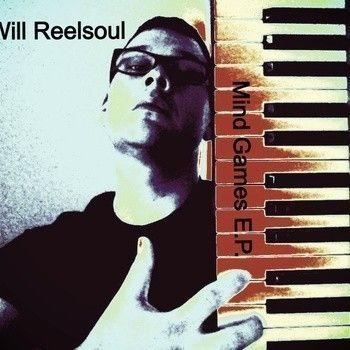 Reelsoul – Mind Games EP
Will 'Reelsoul' Rodriquez is one of those rare creative musicians who has that 'special something', the secret 'wow' factor, a gift, a natural flair for what sounds right, and the world is beginning to realise what an amazing producer this man is. Last year I remember looking at a list of the top 40 House producers and being astonished that Reelsoul did not feature, he is definitely one of my top 3.
Born in 1980, Will grew up with a music-loving father, and started his collection of 45's at the tender age of four. Influenced by a whole range of dance music genres, Will taught himself how to play keyboards by ear and by the age of 12 he was already creating his own productions with two tape decks and a keyboard. Since then he has developed and perfected his signature soulful sound, giving each track a different flavour of the 'Reelsoul Bounce'. You can feel the California sunshine in every release.
Will has collaborated with Frankie Feliciano on the Ricanstruction label, and Mr V on the Sole Channel label, and is now in demand worldwide for his top quality DJ and production skills. He names DJ Spinna, Masters At Work, and Alix Alvarez among his greatest influences.
The instrumental 'Mind Games' EP is a chilled-out, atmospheric departure from Reelsoul's regular bouncy dance beats but still has all of the hallmark elements that we know and love about his music. In keeping with Will's departure from the norm, I have chosen review the tracks in a different way from my usual matter-of-fact manner. This time I am describing where the music takes me, the very personal journey in my mind, aah yes I think I am beginning to understand why the EP is called Mind Games.
The introductory piece – 'Waiting' – takes me to a rainy evening in the city where I am walking along with my umbrella enjoying how the rain has refreshed everything and made the world feel brand new. The jazzy feel with brass elements and smooth piano calms my mind, and as the music fades out, the storm has passed and order is restored in the world.
'Daydream' takes me to a deserted beach on a hot day with the waves rolling in as the sun beats down draping me in warmth. The music slowly bounces along, swinging in time with the roll of the waves, the gentle sunshine keys warm my skin, making this tune the epitome of a beautiful carefree summer day.
'Sweetness' comes next with its broken beat, hint of deepness, soft chords, and minimal keys. This track takes me on a night out to the city to a stylish bar, a smart restaurant, a relaxed kind of glamour, soaking up the atmosphere and watching the beautiful people go by. I feel content, immersed in good company, part of the city scene, and enjoying the sweetness of life.
With its rhythmic beat, warm keys and balanced percussion, 'Shy' takes me out dancing. Now I am at the club, my body is moving and I am part of the crowd, but also in my own zone, feeling the beat, absorbing the undulating keys throughout, at one with the music and in the place I love to be.
'3.46am' the outro, with its raindrop keys, and gorgeous ethereal vibe, has a late night feel. I am driving home in the early hours after a superb night out with friends, tired, but happy and reflective, remembering the fun and laughter we had.
This EP took my mind on a journey that I want to take again and again, to nice memories – relaxing, chilled, and beautiful, this EP is musical soul food that will warm your heart.
Reelsoul is a man who certainly knows how to produce music, his natural flair and pursuit of perfection radiates throughout every track, but more than anything he is able to capture an atmosphere, a feeling, a moment in time – and that's a very rare gift.
Mind Games EP – Reelsoul available at https://willreelsoul.bandcamp.com/album/mind-games-e-p
© Sue McDonald 2014. Unauthorized use and/or duplication of this material without express and written permission from the author and/or owner is strictly prohibited. Excerpts and links may be used, provided that full and clear credit is given to Sue McDonald with appropriate and specific direction to the original content.