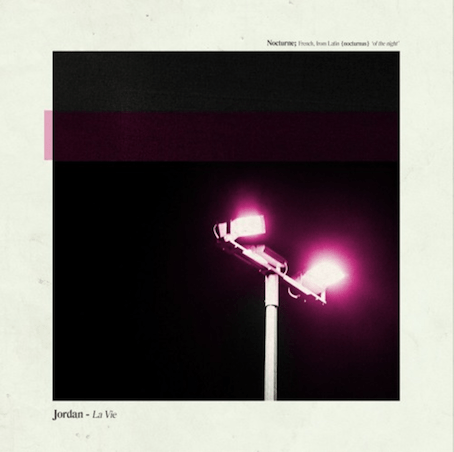 Jordan - La Vie
Belfast native Jordan McCuaig leads the pack of fresh talent emerging from the city, finding time between co-running the leading party The Night Institute to follow up a second release on his Nocturne Music imprint. Nocturne 002 ' No Love Lust' is released on 5th May, comprised of three stompers from the man himself alongside two killer edits from Tuff City Kids – the tag team of veterans Gerd Janson and Phillip Lauer. With his party making it's way to the heart of Belfast's underground community, a call to spin at AVA Festival's Boiler Room stage, a ever-growing label and a back catalogue of solid releases, 2017 sees Jordan's horizons expand from Belfast to the globe.
Nocturne 002 opener 'La Vie' is a heavy-hitter from the breakout producer, beginning with punching drums then passing the baton to a bass hook with signature 808 arrangements along the way. A timely-crafted second build sees dreamlike pads touch the senses before things quickly dismantle and track drives on.
In his own words; ' I'm used to playing extended sets at my residency at The Night Institute, so in my mind each of the tracks on the EP has its place as the night builds. La Vie is the peak time electronic weapon which is as wonky as it is Euphoric. Rasputin is the sort of chugger that gets things going on early on, and for me a healthy dose of acid is essential… that's where No Love Lust comes in.'
After remixes from the likes of Adesse Versions and Borrowed Identity, Jordan extends his contacts list toNight Institute favourites' Gerd Janson and Phillip Lauer, who act under their Tuff City Kids guise to provide extra grit with two serious reworks of 'No Love Lust'. The Drum Dub brings the track to its foundations by letting the breaks do the talking, creating undeniable swing with energetic cowbells and shifting hats full of b-boy swag.
Jordan's Nocturne Music acts as an outlet for his own productions, and a chance to invite remixes from the influences found in his extensive sets week-in-week-out. Nocturne 002 sees Jordan continue to create classic-feeling records at home on the dance floor, with tracks that pay homage to past scenes whilst adding contemporary impressions. With acclaim from the likes of the likes of Thump, DJ Mag, XLR8R and Ransom Note, and continuous placement amongst local legends Bicep, Phil Kieran, Optimo's JD Twitch and Ejeca, Jordan is an artist who's stature continues to rise and play a key role in ensuring Belfast's flourishing scene be brought to the public eye.