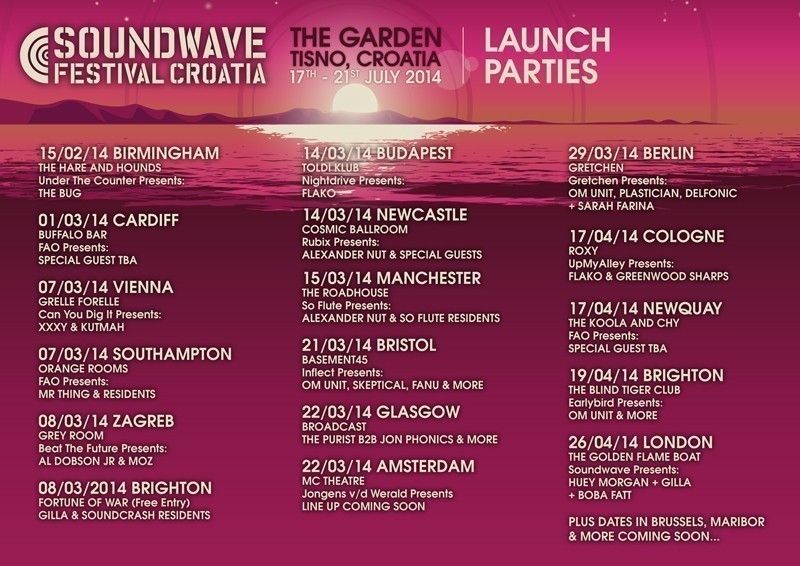 Launch Parties Across UK & Europe Announced For Soundwave Festival Croatia 2014
Europe's most beautiful, boutique music event, Soundwave Festival Croatia is back for its 6th year and announces its most exciting and eclectic lineup yet. 7-piece New Zealand outfit Fat Freddy's Drop lead the pack, followed by a highly-anticipated DJ set from one of hip hop's most legendary artists, the Los Angeles based DJ/Producer/Rapper – Madlib, and British electronic music DJ/Producer Mr Scruff.
Other line-up highlights include Gold Panda who made headlines in 2013 after the release of the critically acclaimed 'Half Of Where You Live', Jonwayne; recipient of the Giles Petersen Worldwide Awards 'album of the year', and 9-piece Leeds-based dub band Gentleman's Dub Club and 6 Music DJ & frontman of The Fun Lovin' Criminals Huey Morgan, alongside standout performers from last years festival; Om Unit, Eliphino, Riot Jazz and Andrew Ashong. Rounding up a typically diverse Soundwave line-up are Anushka and Dele Sosimi, the latter set to deliver a tribute to the legendary Fela Kuti.
Set in a secret cove at the heart of the Dalmatian Coast of Croatia, the idyllic fishing town of Tisno is a beautiful backdrop to one of Europe's finest independent festivals. This sun-drenched area of Croatia sits just slightly away from the incredibly beautiful Krka Waterfalls (National Park).
Heralded as one of 'Europe's Best Music Festivals' by The Independent, Soundwave Festival Croatia makes the most of it's bountiful setting year on year with its boat parties, beach stages and club nights for a long weekend of guaranteed sunshine in the aptly named 'The Garden'.
Spread over five days, three festival stages, the Argonaughty ship and legendary open air after-party spot, Barbarella, Soundwave Festival Croatia delivers the perfect setting for the finest in left-field electronic and live music. Festival-goers can expect to hear hip-hop, dub, afro-beat, soul, house and everything in- between. Every year the festival's boat parties provide some of the finest summer highlights, the site has its own dock, seconds from the main stage, from which The Argonaughty embarks on a Funktion 1-powered tour of the Dalmatian coast, taking in the delightful Komati Islands on a three-hour journey of music.
As well as offering opportunities to camp, Soundwave encourages its festival-goers to explore the setting by taking apartments in the town, presenting the chance to discover some of the finest Croatian cuisine and drink. The heritage and history of the area is embraced by organisers who also enjoy the annual donkey races! The festival sits neatly between Zadar and Split airports, allowing festival-goers to fly in from all over Europe. Transfers will be available to book throughout the festival.
Launch Parties Info:
15/02/14 BIRMINGHAM W/ THE BUG
THE HARE AND HOUNDS
Under The Counter – http://on.fb.me/1g1meYW
01/03/14 CARDIFF W/ SECRET SPECIAL GUEST BUFFALO BAR
FAO – http://on.fb.me/1lAfxDY
07/03/14 VIENNA W/ XXXY & KUTMAH GRELLE FORELLE
Can You Dig It
07/03/14 SOUTHAMPTON W/ MR THING & RESIDENTS ORANGE ROOMS
FAO – http://on.fb.me/1lAfxDY
08/03/14 ZAGREB W/ AL DOBSON JR & MOZ GREY ROOM
Beat The Future – http://on.fb.me/1ioQ7DV
08/03/2014 BRIGHTON W/ DJ GILLA & SOUNDCRASH RESIDENTS FORTUNE OF WAR
(free entry)
14/03/14 BUDAPEST W/ FLAKO TOLDI KLUB
Nightdrive – http://on.fb.me/1bqtBGt
15/03/14 MANCHESTER W/ ALEXANDER NUT & MORE THE ROADHOUSE
So Flute – http://bit.ly/1exCOkv
15/03/14 NEWCASTLE W/ ALEXANDER NUT & SPECIAL GUESTS COSMIC BALLROOM
Rubix – http://on.fb.me/1fQ4Lnr
21/03/14 BRISTOL W/ OM UNIT, SKEPTICAL, FANU & MORE BASEMENT45
Inflect – http://on.fb.me/N1CNf5
22/03/14 GLASGOW W/ THE PURIST B2B JON PHONICS & MORE BROADCAST
Astral Black – http://on.fb.me/Ly1ez8
22/03/14 AMSTERDAM (Line Up Coming Soon) MC THEATRE
Jongens v/d Werald – http://on.fb.me/1kScdAk
29/03/14 BERLIN W/ OM UNIT, PLASTICIAN, DELFONIC + SARAH FARINA
GRETCHEN
Gretchen – http://on.fb.me/1iq1ZFD
17/04/14 COLOGNE W/ FLAKO, GREENWOOD SHARPS, JOSCHA CREUTZFELDT & TBRCK ROXY
Todaj & UpMyAlley – http://on.fb.me/1kTmdcF
17/04/14 NEWQUAY W/ SECRET SPECIAL GUEST THE KOOLA AND CHY
FAO – http://on.fb.me/1lAfxDY
19/04/14 BRIGHTON W/ OM UNIT & MORE THE BLIND TIGER CLUB
Earlybird – http://bit.ly/1kTckeU
26/04/14 LONDON W/ HUEY MORGAN + GILLA + BOBA FATT THE GOLDEN FLAME BOAT
Soundcrash – http://bit.ly/LPjWCQ
Soundwave Festival Croatia online / tickets:
Early Bird tickets – sold out
Advance Tickets – £125
Group Offer (5 for 4)
Deposit Tickets – Pay £55 now pay the rest later All tickets: http://soundwavecroatia.com/
https://www.facebook.com/soundwavecroatia
https://www.facebook.com/events/381103688640606/