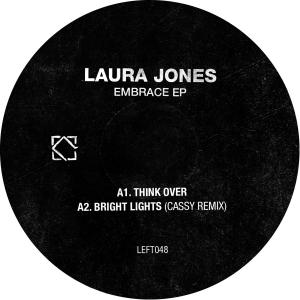 Laura Jones – Embrace
Laura Jones is a rare specimen, a producer who puts her heart and soul into every production. The few key releases she has made for Crosstown Rebels, Visionquest and Leftroom have become instant anthems and shot her into stardom.
'Embrace' sees a return to Leftroom and to form for Laura with the title track and 'Bright Lights' two electrifying bombs with stirring melodies and her signature piano playing. However there's also new exploration into darker techno underworlds with 'Think Over' and 'Imagination Unreal', illustrating the complexity and breadth of Jones as a producer. Remixes from Cassy and Paul Du Lac make this a timeless package poised to set the future months alight.
BACKGROUND
Laura Jones strode into our lives in 2011 with 'Love IN Me' on Visionquest, a summer anthem that filled her diary for the year almost overnight. But Laura´s story didn´t just begin with a big track and an eye condition that requires her to wear the glasses that protect her vision. It began at an early age spending every penny collecting music, buying vinyl like her life depended on it. Bucking the trend of one hit wonder producers she´s earning a reputation as a DJ´s DJ.
Since her debut hit she´s earned a reputation as a producer with depth and style thanks to timeless pieces that centre around her classical training and sultry vocals. With over twelve years of piano training and three in cello and clarinet, Laura understands the dynamics of composition away from the bedroom computer and her tracks EPs and compilation CD have found homes with key labels such as Leftroom, Visionquest and Crosstown Rebels. While her remixes breathe new life into house classics like Romanthony´s ´Let Me Show You Love, Hollis P Monroe´s ´I´m Lonely´ and her forthcoming anthemic underground remix of Todd Terry´s 'Bounce to the Beat'.
Two differing versions of this release appear across digital and vinyl on Leftroom (see tracklisting)
Gigs http://gigs.gigatools.com/user/LauraJones
www.soundcloud.com/laurajones
www.facebook.com/laurajonesmusic
www.twitter.com/laura___jones