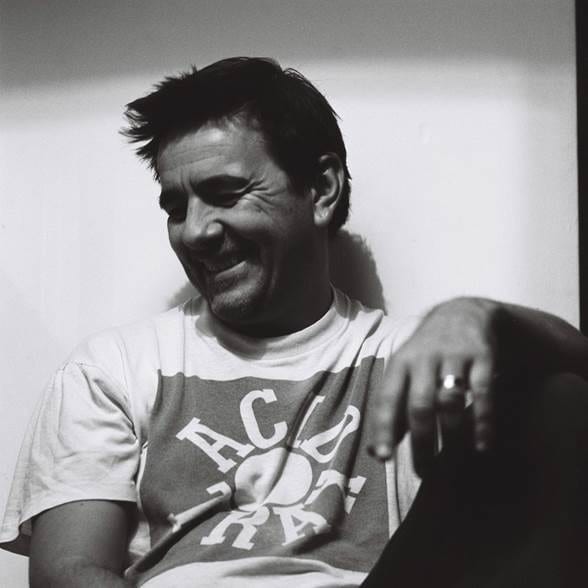 LAURENT GARNIER: Electrochoc
Rocket 88 books present 'Electrochoc', written by dancefloor hero Laurent Garnier, with David Brun-Lambert. The book is a unique combination of the history of dance music with autobiography and will soon be available in English for the first time.
Available to pre-order now via www.laurentgarnierbook.com, a limited earlybird run of 'Electrochoc' is due for dispatch on May 5th and the book is due for general publication on July 2nd. This special edition 304-page hardback comes with a drilled and varnished cover, die-cut as a 12-inch single.
Named 'Chevalier des Arts et des Lettres' by the French Minister of Culture, today Monsieur Garnier is a world-famous artistic polymath, who has applied his questing energy to take on roles as DJ, radio broadcaster, producer, musician, live performer, label owner, star of a graphic novel and scorer of music for ballet, theatre, cinema, TV and fashion shows.
'Electrochoc' goes back to the roots; Laurent experienced first-hand Paris' burgeoning pirate radio scene and the UK's euphoric acid house explosion. He was a key player in what became known as 'The French Touch' and helped nurture France's subsequent growth as a key global player in electronic music.
The book traces the rise of dance music and takes the reader on a worldwide journey through the legendary clubs and key moments of musical history, from the early 1980s at London's Mud Club, through Manchester's Hacienda, and onto Paris, Detroit, New York, Chicago and beyond.
'Electrochoc' tells the story of how Laurent progressed from DJing to creating seminal, award-winning records, building the feted label F Communications, and performing on some of the world's most prestigious booths and stages.
It also includes unique contributions from Detroit techno pioneers Jeff Mills and Mad Mike Banks, as well as Francois Kervorkian, James Murphy and others, who complement Garnier's personal tales of music, life and love.
Within 'Electrochoc', the progression of Laurent's career and life is charted in parallel with the development of dance music from its cult underground roots, to its explosion as a worldwide phenomenon and multimillion pound industry. It also details the challenges brought about by the rise in digital music, from illegal file sharing to streaming, and how people involved in the scene were forced to adapt and evolve, or become obsolete.
'Electrochoc' is a bestseller in France and has subsequently been translated into Spanish, German, Japanese, Russian and even Croatian. If further proof of the engrossing nature of the book was needed, 'Electrochoc' is currently the inspiration for a feature film, co-written by Laurent, with filming due to begin late 2015.
Laurent also recently delivered 'La HOME Box' set on F Communications; this is comprised of unreleased productions, plus five EP's that made up 'The Garnier Project' released on five different labels: Still Music, Musique Large, 50Weapons, MCDE and Hypercolour. The full box set has sold out, but a 1 CD and download edition of highlights is due out this spring/summer. You can also pre-order a limited run of 'La HOME Package', which consists of the 'Electrochoc' book, 'La HOME Box' CD, and the 'Honey I'm Home' 12-Inch vinyl at http://laurent-garnier.tmstor.es.
Price: £30
Extent: 304 pages
ISBN number: 9781906615918
Format: Special Edition Hardback (with drilled and varnished cover)
Publication date: July 2nd 2015
Available at: www.laurentgarnierbook.com