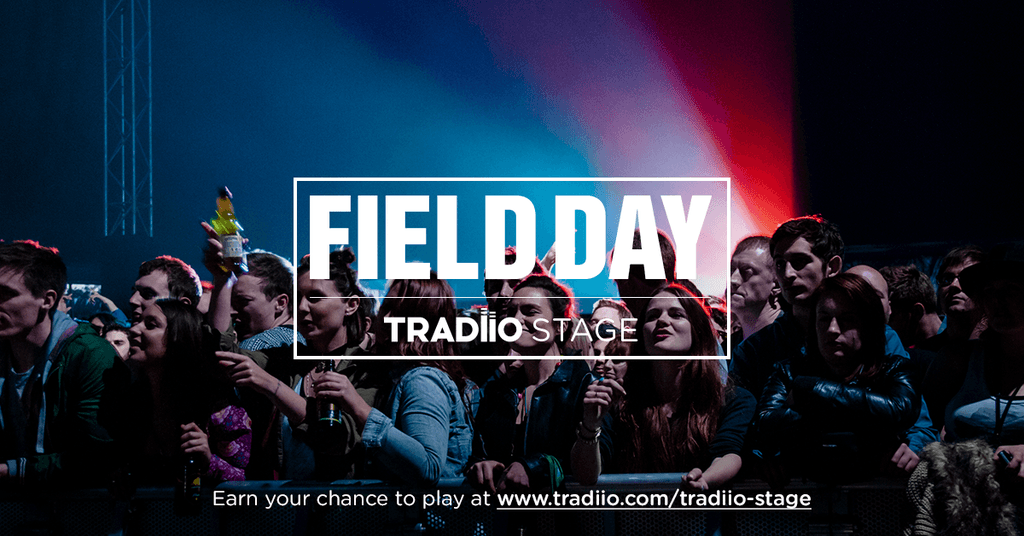 TRADIIO x Field Day
In a sea of formulaic music apps and streaming services that give little payback to the artists, reward-based music discovery platform TRADIIO is a game-changer and a vital step towards a more balanced music economy. Dedicated to nurturing emerging talent and empowering the fans, Tradiio is completely free for artists and users and offers a chance to make a real difference and challenge the status quo…
Freshly launched in the UK, TRADIIO is a ground-breaking app already making an impact on the careers of new and emerging artists. Fuelled by their love of finding new music, Tradiio users are actively playing a part in the careers of their favourite artists by 'investing' with virtual currency and watching them climb the Tradiio charts on their way to career changing rewards. Courtesy of various high-profile partners, Tradiio rewards include studio time in collaboration with Miloco, promo video production with Radar Music Videos, and for the FIRST TIME EVER, a slot on a festival stage purely curated by a music app, at Field Day – London's most cutting edge music festival. In the future, popular artists can also benefit from a label partnership with Believe Digital. Fans investing wisely can win music based rewards from Sonos, Bleep & AIAIAI as well as festival tickets.

Managing Director, Paul Benney sums it up: "We are building a real community where fans and artists are helping each other and being rewarded for doing so. Unlike other streaming platforms, Tradiio is based on this mutual support where the nurturing of the artist comes first. From securing festival slots to offering studio time, Tradiio is committed to creating real opportunities for artists based on their popular appeal among the users of the platform."

Founded by Alvaro Gomez, André Moniz and Miguel Leite in 2014, Tradiio is a Portuguese startup with offices in Lisbon, London and Oporto. With its rapid growth and success in Portugal, Universal Music Portugal now looks to Tradiio's top 50 chart to select artists to distribute worldwide and has signed four Tradiio artists so far. Ahead of the tech curve, Tradiio also recently launched the Tradiio Apple Watch App developed in partnership with Thing Pink.
ARTISTS LISTEN UP // IT'S NOT TOO LATE to sign up to Tradiio and win a chance to perform at Field Day. With 8 slots to fill, 6 artists confirmed so far, and another to be announced next week, artists signing up today can be in the running for the last 'GOLDEN SLOT' on the Tradiio x Field Day stage. Working with Field Day, Tradiio will select the final artist from the Tradiio Top 20 on May 31st and announce on June 1st.
Shaping up to be the most unique and exciting stage at Field Day, the acts chosen so far truly showcase the range of musical genres and breadth of talent that Tradiio features. Line-up so far includes:

Antix | Luka | Matthew & Me | Tropics | Wild Echo | Yossarian

Tom Baker from Field Day concurs "It's a really nice, organic way for us to support emerging artists that Field Day-goers may never have come across before and also a fun way of engaging with the fans of these artists. An app-driven curated stage has never been done before so it's very exciting to have Tradiio representing at Field Day and I look forward to checking out the artists involved."