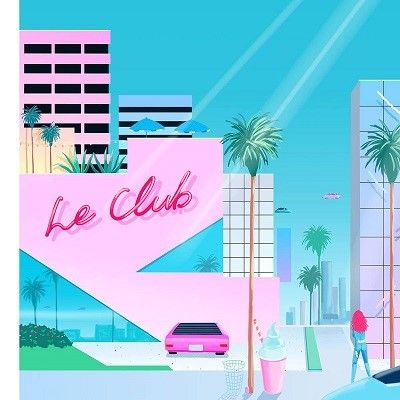 Le Galaxie - Le Club
Le Galaxie are back with their special brand of 80s fuelled synth-wave technopop, updated for the 21st Century, on their second album and big-label debut 'Le Club'.

The electropop four-piece has been pegged by Hot Press as 'Ireland's outstanding party band' and by The Irish Times as 'a juggernaut…jack knifing into crowds, who are only too happy to take the hit'. Perfectly capturing their songwriting prowess, described by HMV as swinging 'gently between morose and melancholy', 'Le Club' aptly showcases the band's striking versatility, emotion and intensity.

'Le Club' takes you through Le Galaxie's vision of a retro future. Reminiscent of Kavinsky and M83, meets M.I.A. and Hot Chip, it features the likes of Elaine Mai, MayKay from Fight Like Apes, and African Ireland-based Senita Appiakorang as special guests. 'Le Club', the title track – inspired by a sample from 1984 film 'The Woman in Red' – was recreated using a voice actor, whilst the saxophone solo that closes single 'Love System' evokes Gerry Rafferty staggering around Grand Theft Auto: Vice City.

Opening track 'Put The Chain On' is acknowledged by the band as a "start with an earthquake and build from there" moment, but 'Le Club' is a record for the days and for the nights, for the dusks and for the dawns. Although recorded in Sun Studios in Dublin, the band travelled to Los Angeles, the spiritual homeland for their music, for its production, and worked with DFA/LCD engineer and producer Eric Broucek. Eric brought the likes of 'Tell Me Twice' to life by drawing influence from MK's 1992 track 'Burning'.

One of the standout tracks of the album, 'Love System' was chosen as the anthem for Ireland's successful Marriage Equality 'YES' campaign. Meanwhile, its visuals – directed by MTV Music Video Award nominee Brendan Canty (who directed Hozier's 'Take Me To Church') – recently premiered on US music industry bible, Billboard. A slow fade out is provided courtesy of glorious synth dream-pillow 'Freeway Flyer', described by frontman Michael Pope as a special tune designed to take listeners on a journey, whilst still hinting at all the journeys left to come.

The album is also accompanied by a remix of 'Put The Chain On' by Black Devil, described by Dazed and Confused as 'the father of experimental disco', as well as a deeper mix of 'Love System' by Young Wonder. Also featured is a disco-house remix of 'Humanise' from Blende, complete with 80s inspired percussion and a soulful piano riff.

Known to most for their astonishing live performances, Le Galaxie has become a regular fixture at festivals like The Secret Garden Party, Latitude, and SXSW. Fresh from headlining Ireland's biggest festival Electric Picnic and performing at CMJ Music Marathon, the band will bring their magnetic energy to London when they headline at Electrowerkz on 25th November.
CMJ Shows

Wednesday 14th Oct – Official Irish Showcase at Delancey @8pm
Wednesday 14th Oct – Crack in the Road at Pianos @1am
Thursday 15th Oct – The Late Late Bar (DJ Set) @9pm
Friday 16th Oct – Planetary Showcase at Pianos @5pm
Saturday 17th Oct – Irish Arts Centre Showcase at Rockwell Music Hall @3pm

UK Shows

Wed 25th Nov – Electrowerkz, London
Ticket link: http://www.ticketweb.co.uk/event/198623