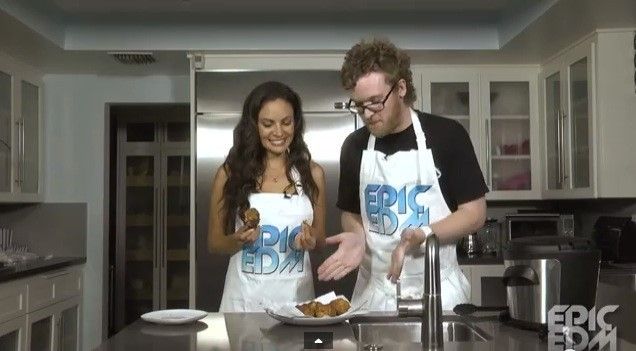 Learn To Make Fried Chicken with RUSKO!
When RUSKO isn't dropping the bass around the world, he's in the kitchen dropping chicken into batter. He fry's it up good and crispy – just like he sizzles on the stage. RUSKO chicken is the new Popeye's. Watch this video and get some tips from bass music's culinary master.

RUSKO will take a hiatus from making fried chicken during the months of October and November as he will be on a tour with Roni Size and MC Dynamite. He will gladly accept your homemade versions of the recipe while on tour. Please see below for the full schedule and find out when RUSKO will be stopping in a city near you!
Fri 10/4 SANTA ANA, CA Yost
Mon 10/7 GAINESVILLE, FL Forum
Tues 10/8 TAMPA, FL Ritz Ybor
Wed 10/9 ORLANDO, FL House Of Blues
Thurs 10/10 MIAMI, FL Fillmore
Fri 10/11 TALLAHASSEE, FL Coliseum
Mon 10/14 KNOXVILLE, TN NV
Tues 10/15 ASHEVILLE, NC The Orange Peel
Wed 10/16 CHARLOTTESVILLE, VA The Jefferson
Thurs 10/17 RICHMOND, VA The National
Fri 10/18 SILVER SPRING, MD Fillmore
Mon 10/21 CLIFTON PARK, NY Upstate Concert Hall
Thurs 10/24 HARTFORD, CT Webster Theater
Fri 10/25 MONTREAL, QC Telus Theater
Sat 10/26 TORONTO, ON Sound Academy
Mon 10/28 BUFFALO, NY Town Ballroom
Tues 10/29 CLEVELAND, OH House Of Blues
Wed 10/30 CINCINNATI, OH Bogart's
Thurs 10/31 CHAMPAIGN, IL Canopy Club
Fri 11/1 MADISON, WI Majestic
Tues 11/5 MINNEAPOLIS, MN Skyway Theater
Wed 11/6 WINNIPEG, MB Republic
Sun 11/10 VANCOUVER, BC Celebrities
Tues 11/12 PORTLAND, OR Roseland
Thurs 11/14 EUGENE, OR Lane Events Center
Fri 11/15 SAN FRANCISCO, CA 1015 Folsom
Sat 11/16 SAN DIEGO, CA House Of Blues
Mon 11/18 PHOENIX, AZ Monarch
Thurs 11/21 AUSTIN, TX Emo's East
Fri 11/22 HOUSTON, TX House Of Blues
Sat 11/23 DALLAS, TX Lizard Lounge
Mon 11/25 KANSAS CITY, MO Uptown Theater
Wed 11/27 DENVER, CO Fillmore

OFFICIAL WEBSITE: http://ruskoonfire.com/