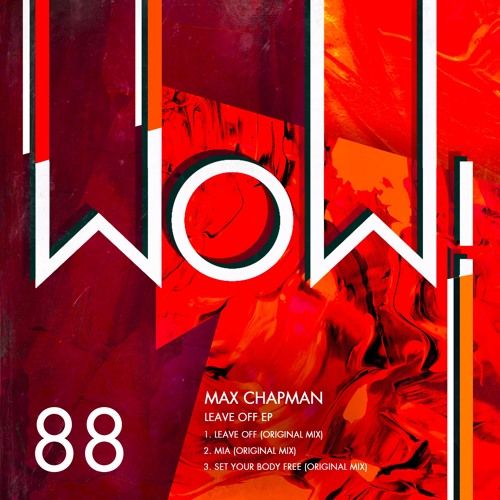 Max Chapman - Leave Off
10th April sees heralded UK DJ/producer Max Chapman step up to release his first EP on Mar-T's prestigious Wow! Recordings, entitled 'Leave Off'.
Since bursting onto the scene in 2011, Max Chapman has quickly become a globally recognised name, partly due to his track 'Body Jack' climbing to the #1 spot in the Beatport overall chart, and also due to his relentless touring schedule that regularly sees him awe crowds around the world with his scintillating live performances.
The EP's title-named track, 'Leave Off' kicks off the proceedings, a steady-groover featuring a number of tight drums and tribal percussive elements perfectly accompanied by the high-intensity vocal samples.
'Mia' follows, a slick Tech-House offering utilising female vocal samples and combining these with brooding synths and other urgent off-kilter pad effects to great effect.
Closing the three-track EP is 'Set Your Body Free', a track that once again showcases why Max has earned a reputation for high-calibre productions, with the raw, percussive-driven beat giving little rest throughout its seven-minute duration.
'Leave Off' is available exclusively via Beatport on April 10th and everywhere else two weeks later.
FIND WOW! RECORDINGS ONLINE:
https://pro.beatport.com/label/wow!-recordings/2163
https://soundcloud.com/wow-recordings
https://www.facebook.com/WowRecordingsOFFICIAL/
FIND MAX CHAPMAN ONLINE:
https://www.maxchapman.com/
https://www.facebook.com/Chapman.Max/?fref=ts
https://soundcloud.com/max-chapman