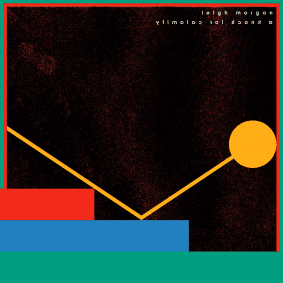 Leigh Morgan – A Knack for Calamity
London's Leigh Morgan returns to his Fancy Human imprint with his debut LP entitled 'A Knack for Calamity'.
Leigh Morgan first entered the electronic music world in 1999 warming up for the likes of Juan Atkins, Justin Robertson and Craig Richards at the Urban Torque club night for four years before launching the Urban Torque label with founder Jason Moore in 2001 where they released over 10 years' worth of quality music. In 2015 Leigh launched the Fancy Human label with Rob King, Simon Hall and Tom Coulling as a home for their own productions releasing twelve outings on the imprint so far. Combining his hard work, passion and down to earth approach, Leigh delivers his first full length album featuring thirteen dreamy tracks that's had early support from the likes of Tensnake, Dave Angel, Colin Dale, Moodymanc, Matthias Vogt and many more.
'Polishing with My Polishing Cloth' kicks off the album with gentle keys balanced with warm resonations together providing an emotive start before 'I've Angered You Now' and 'Wood And Plastic' both deliver low slung drums, tranquilising features and weaving chords throughout. Heavenly pads, rhythmic percussion and wavering melodies take the focus in 'Akimbo' until 'It's Emollient' deploys a laid-back approach with stabbing synths fused with enrapturing leads which continues through to 'A Tunnel of Deep Emotion' which lays spaced-out ambience and alleviating bliss.
'Equally Aren't We' together with 'Don't Unclench Yourself From My Embrace' and 'Lift and Separate' offer up euphoric elements harmonising with angelic textures and floating synth sequences creating a mesmerising atmosphere throughout. 'Cherries and a Sit To' provides light, colourful feelings and broken rhythms which is gracefully maintained in 'Delicate Chemicals' as the chunky kicks make room for weaving chords and satisfying bells. 'Randy's Badger' beautifully finishes off the album with healing melodies, softening aesthetics and pulsating bass grooves.
Leigh Morgan 'A Knack for Calamity' drops on Fancy Human on 27th September 2019.
https://www.fancyhuman.com
https://twitter.com/FancyHumanRecs
https://www.facebook.com/fancyhumanrecords
https://soundcloud.com/fancyhuman
https://twitter.com/leighmorganut
https://www.facebook.com/leighmorgandj
https://www.instagram.com/leighmorganfancyhuman
https://soundcloud.com/leighmorgan
Tracklist:
1. Polishing With My Polishing Cloth
2. I've Angered You Now
3. Wood and Plastic
4. Akimbo
5. It's Emollient
6. A Tunnel of Deep Emotion
7. Equally Aren't We
8. Don't Unclench Yourself from My Embrace Yet
9. Lift and Separate
10. Hooter Repercussions
11. Cherries and a Sit To
12. Delicate Chemicals
13. Randy's Badger