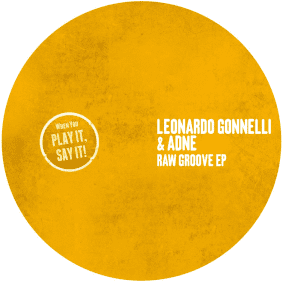 Leonardo Gonnelli & Adne – Raw Groove EP
Play It Say It's latest dance floor dynamite comes from Italian producer Leonardo Gonnelli and the mysterious Adne trio.
Gonnelli has been touring the world for ten years now, with a distinctly Florentine take on house finding favour with big wigs like Adam Beyer and Sven Vath. He's a man never far from the Beatport charts and this latest collaborative effort with Adne—a live outfit who bring samples, live vocals and a love of weirdness to their music—is another wining effort.
Opener 'Raw Groove' is a slippery cut with lithe vocals and punchy kicks bringing the groove. Swirling pads and sci-fi effects flesh out this busy and brilliant cut.
'Feeling Your Body' keeps up the pressure with a tightly coiled sense of energy that bustles along and makes you want to shake every piece of your body.
Last of all, the superb 'Work It' explores a deeper afterparty mood with rubbery kicks and subtle vocal stabs that are absorbing and creepy as you go ever deeper down the rabbit hole.
Once again Play It Say It comes through with the club-ready essentials.
Tracklist:
01 Raw Groove
02 Feeling Your Body
03 Work It