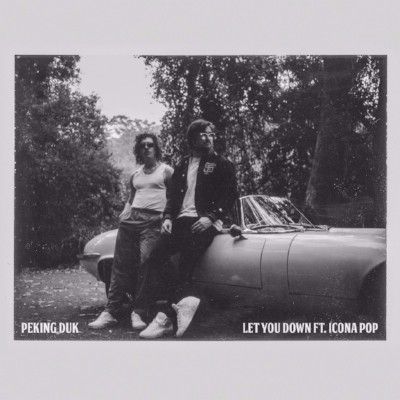 Peking Duk ft. Icona Pop - Let You Down
Peking Duk have today released their brand new single 'Let You Down' featuring Swedish electropop duo Icona Pop, through Sony Music Entertainment Australia. Peking Duk's latest collaboration is a modern heartbreak melody and the first to feature vocals from one-half of the duo,Adam Hyde.

Flowing through the different stages of heartbreak, Peking Duk and Icona Pop have created the perfect break-up song for their generation. With razor-like synths and thundering drum beats, the electrifying rhythm in 'Let You Down' beautifully contrasts with both artist's emotive vocals and sad lyrics.

Peking Duk talk about the inspiration behind the song: "It is loosely based off the story in the movieCandy from Heath Ledger's perspective. We honestly just felt like the happy melodies would be far more interesting with a sad story through the lyrics. Weirdly, the story in Candy is far more relatable than it seems on first glance. Many people are actually in scenarios or relationships where they know they are bringing the other person down. This is the hard part; trying to tell them to leave so you don't let them down."

It has already been a big week for Peking Duk, receiving four ARIA Award nominations for Best Dance Release for 'Stranger' feat. Elliphant, Best Group, Best Live Act and Apple Music Song Of The Year for'Stranger' feat. Elliphant. Fans can vote for the Apple Music Song of the Year by playing their favourite song on Apple Music (HERE) or casting a web vote at ariaawards.com.au ahead of the 2017 ARIA Awards on November 28th.

The release of 'Let You Down' follows the buzz from Peking Duk's recent incredible performance at Splendour In The Grass which has been hailed as "one of the most insane sets of the entire weekend, possibly even in Splendour history" by Huffington Post and similarly as "one of the best sets of Splendour 2017" by Pedestrian.TV. Watch the awesome wrap up video HERE.

ABOUT PEKING DUK:
Catapulting onto the Australian music scene in 2014, the ARIA-Award winning, Canberra-bred duo ofAdam Hyde and Reuben Styles, have captivated fans around the world with their distinct flavour of pop-infused electronica and electrifying live sets.
Peking Duk started their ascent in 2014 with the ARIA-winning 4 x platinum single 'High', which became the #1 most played track on triple j that year and placed #2 in the Hottest 100, and have quickly become one of Australia's most successful home grown acts. They backed it up with two more huge hits; the triple-platinum 'Take Me Over' and the platinum 'Say My Name'. In late 2016, they brought us 'Stranger'featuring Swedish cool-girl Elliphant, which has racked-up over 33 million streams worldwide and is now certified triple-platinum. More recently, 2017 has seen Peking Duk return in force with 'Fake Magic', a collaboration with vocalist Aluna Francis of UK duo AlunaGeorge, yet another platinum certified hit with over 15 million streams globally. This exciting next phase sees the dynamic duo take their career to the next level with 'Let You Down', featuring Swedish electropop group Icona Pop. With a massive 130 million streams next to their name, Peking Duk's global fan-base continues to grow exponentially with every release.
Australia's favourite duo have had transatlantic success with multiple North American tours including huge performances at Coachella, Lollapalooza and Squamish in Canada among several club dates. Their very own national Clowntown Tour earlier this year culminated in one of the biggest shows of their career on the main stage at Splendour In The Grass, where they debuted their fully live performance show to incredible acclaim. Peking Duk's reign of major Australian festivals is set to continue with Falls Festival over the New Year. They will be making waves in Asia later this year with It's The Ship in Singapore and a selection of other dates in the region.
It's fair to say that Peking Duk's sonically captivating live shows will leave you sweat-soaked, champagne-sprayed and picking bits of confetti out of your hair for days. The best part? With a debut album just around the corner, Peking Duk's domination is just getting started!
ABOUT ICONA POP:
Chart-topping Icona Pop have risen in the ranks as one of the most successful international pop duos in music thanks to their first triple-platinum hit single 'I Love It' feat. Charli XCX, which has amassed well over 400 million streams worldwide.
The Swedish electropop act's single 'Girls Girls' (co-written with their close friend Tove Lo) bounces with the familiar energy that we have come to expect from Icona Pop. Another recent collaboration with Chicago duo Louis The Child, 'Weekend' boasts an iTunes Dance Top 10, 4.5 Million streams in the US and a live Coachella performance.
Since the release of their debut album This Is… Icona Pop in 2013, Caroline Hjelt and Aino Jawo have been featured in the hit HBO series GIRLS; alongside live performances on NBC's Late Night with Jimmy Fallon, NBC's The Today Show, ABC's Good Morning America and CBS' Late Show with David Letterman, and America's Got Talent; and sold-out worldwide tours supporting Miley Cyrus, Katy Perry, and One Direction.

PEKING DUK LIVE DATES:
October 14th | The Grass Is Greener, Cairns, QLD
October 21st | The Grass is Greener, Mackay, QLD
November 17th-20th | It's the Ship, Singapore
December 2nd | Mudtopia, Rotorua, NZ
December 28th-31st | Falls Festival, Lorne, VIC (SOLD OUT)
December 29th-31st | Falls Festival, Marion Bay, Tasmania
December 31st -January 2nd | Falls Festival, Byron Bay, NSW (SOLD OUT)
January 6th -7th | Falls Festival | Fremantle, WA