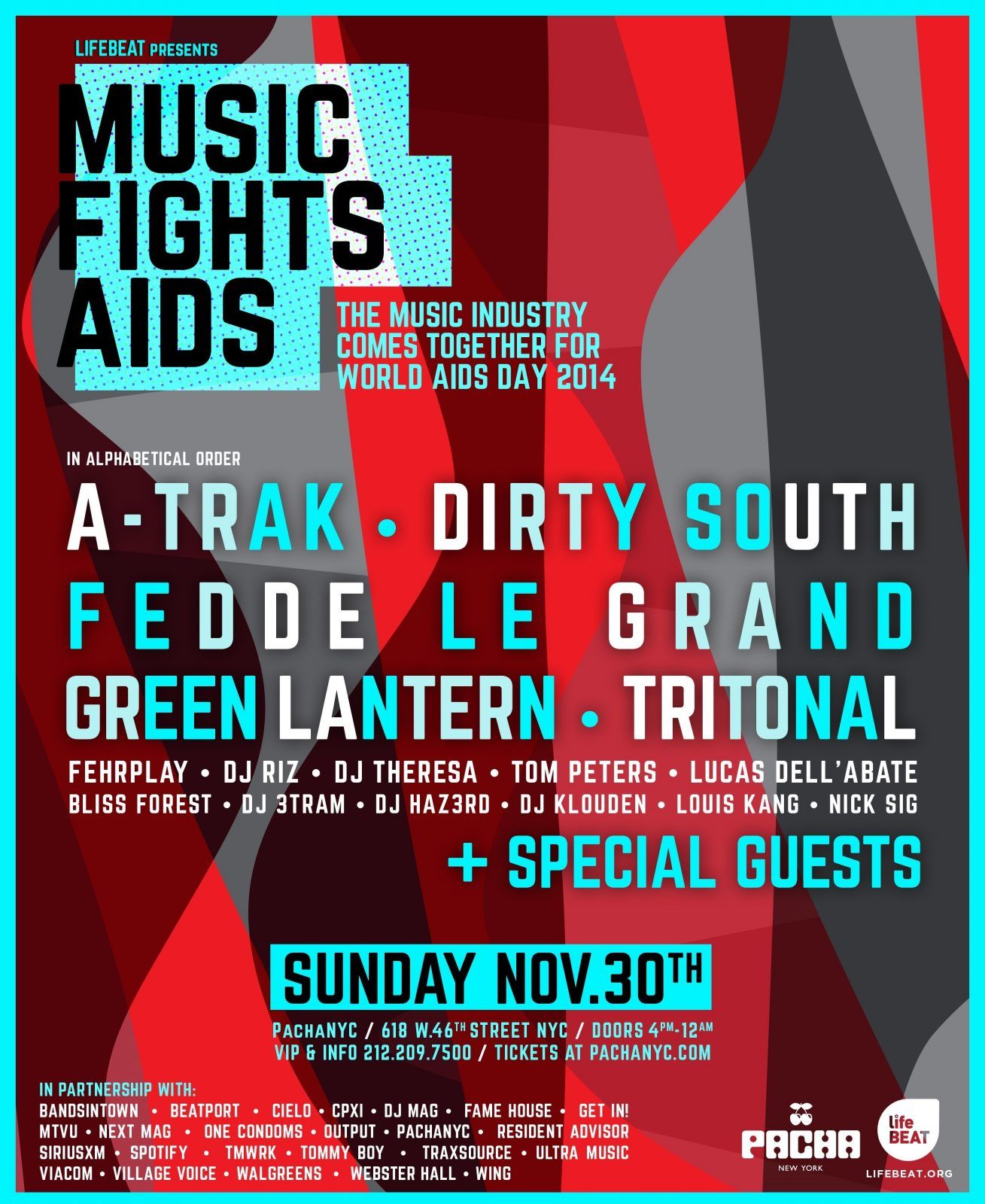 LIFEBEAT'S #MUSICFIGHTSAIDS ANNOUNCES FULL LINE UP
Lifebeat, Music Fights HIV/AIDS, has united a coalition of media and entertainment partners to launch the #MusicFightsAIDS campaign in honor of World AIDS Day on December 1st. From November 24th – December 1st, major media outlets, celebrities, music distributors and music venues will leverage their reach and unique platforms to draw urgent attention to the dramatic rise in HIV infections among young people ages 13-24.
The #MusicFightsAIDS campaign features a new series of PSAs recorded by superstar DJs A-Trak, Dirty South, Fedde Le Grand, 3LAU, and The Chainsmokers. These PSAs will help amplify awareness among young, millennial music fans and will be featured on mtvU, Spotify and other partner sites.

WATCH PSA'S HERE
"#MusicFightsAIDS is a call to action by and for people who live and breathe music," says Gary Dell'Abate, President of Lifebeat, and executive producer of The Howard Stern Show. "In honor of World AIDS Day, we are calling on the music industry, media partners, and music lovers to use their megaphones to encourage young people to practice safe sex and get tested."
Campaign partners include: Beatport, Cielo, CPXi, DJ Mag, Fame House, Get In!, mtvU, ONE, Output, PachaNYC, Resident Advisor, SiriusXM, Spotify, TMWRK, Traxsource, Ultra Records, Viacom, Village Voice, Walgreens, Webster Hall, and Wing Advertising. Partners are supporting the campaign in a myriad of ways from distributing HIV prevention materials in nightclubs to customizing activations and promotional support across their television, radio, digital and social media platforms. Nine jumbo screens in the heart of Times Square will sync to the #MusicFightsAIDS campaign reaching more than 2 million people daily.
#MusicFightsAIDS Benefit Concert

#MusicFightsAIDS campaign will culminate in a special benefit featuring A-Trak, Fedde Le Grand, Dirty South, Tritonal, Green Lantern, and other surprise guests who volunteered to raise awareness and funds for this important initiative. The event will take place on November 30th from 4pm – 12:01am (World AIDS Day) at PachaNYC (618 W. 46 St, New York, NY).
BUY TICKETS HERE

World AIDS Day remembers the 32 million people who have died, and the 34 million people currently living with HIV/AIDS. World AIDS Day started in 1988 and was the first designated global health day. Lifebeat continues to be a leading advocate for HIV/AIDS awareness, prevention and safety. Donations made here will support Lifebeat's youth HIV Prevention programs, and Hearts & Voices music performances for people living with HIV/AIDS and their families.

"This is a wakeup call to everyone in America – especially our young people. HIV & AIDS are still with us and #MusicFightsAIDS is Lifebeat's loudspeaker to continue our education & prevention mission about HIV, testing, and safe sex," adds Nick Cucci, Executive Director of Lifebeat.