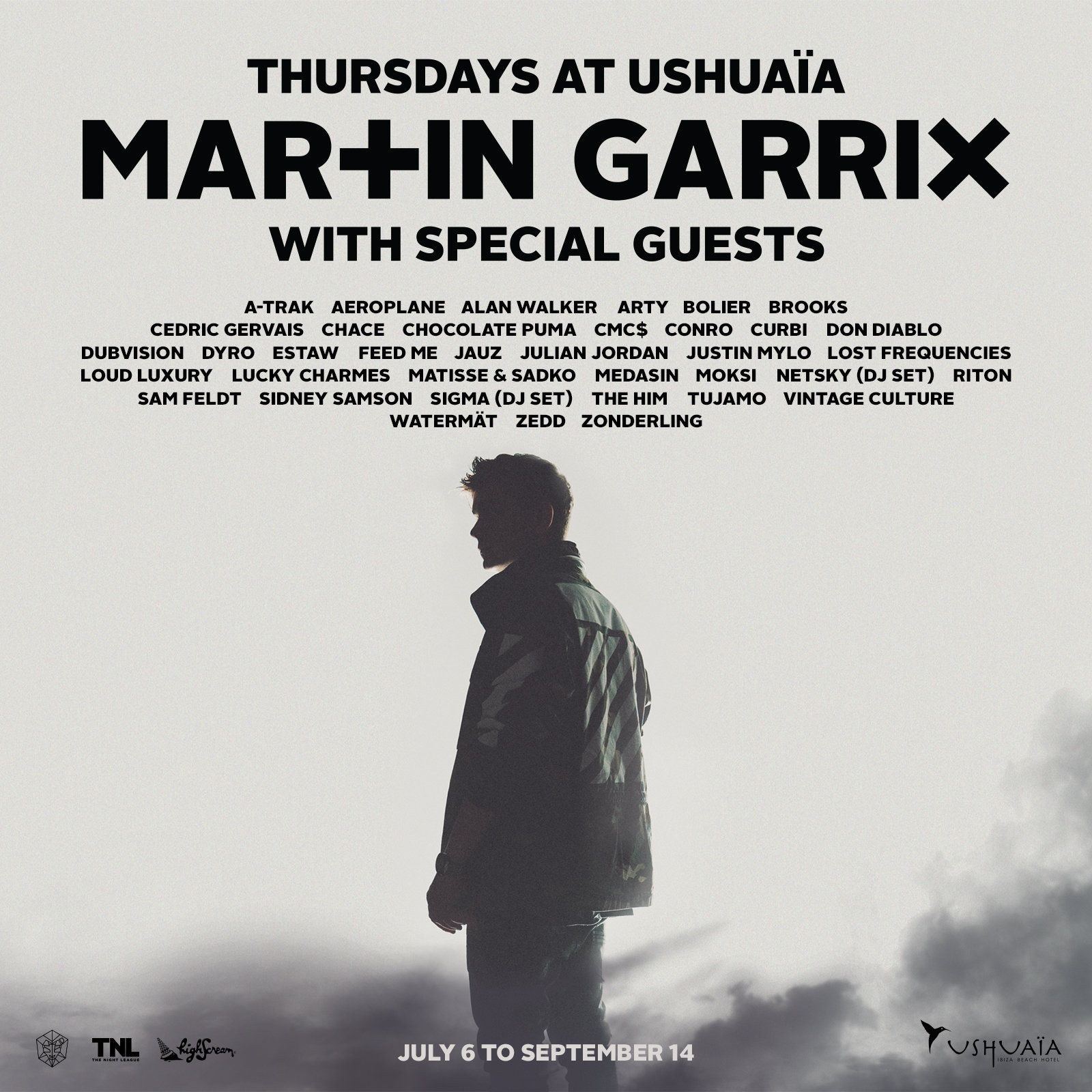 Martin Garrix reveals full lineup for Thursdays at Ushuaïa Ibiza
Martin Garrix has unveiled the complete lineup of world class acts set to join him for his Thursday night slot at Ushuaïa Ibiza next month. Kicking off 6th July and brimming with an array of the world's finest talent, with tickets already flying off the shelves, these are on track to be the most in-demand parties on the island.
An Ushuaia regular and firm favourite, Garrix will be making his hotly anticipated return to the club's legendary poolside stage to showcase his brand new residency. With an impressive stack of new releases, including 'Byte' and 'There For You' with Troye Sivan as the latest additions, and innovative production, Martin will be joined by guests A-trak, Aeroplane, Alan Walker, Arty, Bolier, Brooks, Cedric Gervais, Chace, Chocolate Puma, CMC$, Conro, Curbi, Don Diablo, Dubvision, Dyro, Estaw, Feed Me, Jauz, Julian Jordan, Justin Mylo, Lost Frequencies, Loud Luxury, Lucky Charmes, Matisse & Sadko, Medasin, Moksi, Netsky, Riton, Sam Feldt, Sidney Samson, Sigma, The Him, Tujamo, Vintage Culture, Watermät, Zedd and Zonderling.
On Saturday 27th May Ushuaïa Ibiza opened its doors for a seventh year, throwing yet another incredible party to kick off the 2017 summer season. Famed for their phenomenal pool parties, it's not just their host of superstar residents that sees fans arrive in droves through their doors. Pulling out all the stops when it comes to production, the venue's dazzling pyrotechnics, mindblowing lighting, visuals, state of the art soundsystem, not to mention beautifully designed gogo costumes and abundance of confetti, streamers and CO2 make every night spent at the no 1 open air club, a truly unforgettable one.
As he gets ready to make Ibiza his home for the summer, the young prodigy is preparing not one but two residencies on the island, promising two very different yet equally dynamic shows, that are not to be missed.
MARTIN GARRIX FULL LINEUP & SET TIMES
06 JULY

22:00 – 00:00 MARTIN GARRIX
21:00 – 22:00 ZEDD
20:00 – 21:00 A -TRAK
19:00 – 20:00 THE HIM
18:00 – 19:00 JUSTIN MYLO
17:00 – 18:00 ESTAW

13 JULY

22:00 – 00:00 MARTIN GARRIX
21:00 – 22:00 SIGMA
20:00 – 21:00 BROOKS
19:00 – 20:00 CMC$
17:00 – 19:00 JUSTIN MYLO

20 JULY

22:00 – 00:00 MARTIN GARRIX
21:00 – 22:00 ALAN WALKER
20:00 – 21:00 BOILER
19:00 – 20:00 CONRO
17:00 – 19:00 JUSTIN MYLO

27 JULY

22:00 – 00:00 MARTIN GARRIX
21:00 – 22:00 NETSKY
20:00 – 21:00 DYRO
19:00 – 20:00 SAM FELDT
18:00 – 19:00 DUBVISION
17:00 – 18:00 JUSTIN MYLO

03 AUGUST

22:00 – 00:00 MARTIN GARRIX
21:00 – 22:00 LOST FREQUENCIES
20:00 – 21:00 RITON
19:00 – 20:00 JULIAN JORDAN
17:00 – 19:00 JUSTIN MYLO

10 AUGUST

22:00 – 00:00 MARTIN GARRIX
21:00 – 22:00 DON DIABLO
20:00 – 21:00 WATERMAT
19:00 – 20:00 CHACE
17:00 – 19:00 JUSTIN MYLO

17 AUGUST

22:00 – 00:00 MARTIN GARRIX
21:00 – 22:00 AEROPLANE
20:00 – 21:00 ZONDERLING
19:00 – 20:00 LOUD LUXURY
18:00 – 19:00 JUSTIN MYLO
17:00 – 18:00 LUCKY CHARMES

24 AUGUST

22:00 – 00:00 MARTIN GARRIX
21:00 – 22:00 JAUZ
20:00 – 21:00 CHOCOLATE PUMA
19:00 – 20:00 MOSKI
17:00 – 19:00 JUSTIN MYLO

31 AUGUST

22:00 – 00:00 MARTIN GARRIX
21:00 – 22:00 CEDRIC GERVAIS
20:00 – 21:00 ARTY
19:00 – 20:00 MATTISE & SADKO
18:00 – 19:00 CURBI
17:00 – 18:00 JUSTIN MYLO

07 SEPTEMBER

22:00 – 00:00 MARTIN GARRIX
21:00 – 22:00 FEED ME
20:00 – 21:00 TUJAMO
19:00 – 20:00 SIDNEY SAMSON
17:00 – 19:00 JUSTIN MYLO

14 SEPTEMBER

22:00 – 00:00 MARTIN GARRIX
21:00 – 22:00
20:00 – 21:00 VINTAGE CULTURE
19:00 – 20:00 MEDASIN
18:00 – 19:00 JUSTIN MYLO
17:00 – 18:00 ESTAW

SOCIALS: Web / Facebook / Twitter / Instagram / YouTube
TICKETS: www.ushuaiaibiza.com/martin-garrix
ROOMS: www.ushuaiabeachhotel.com