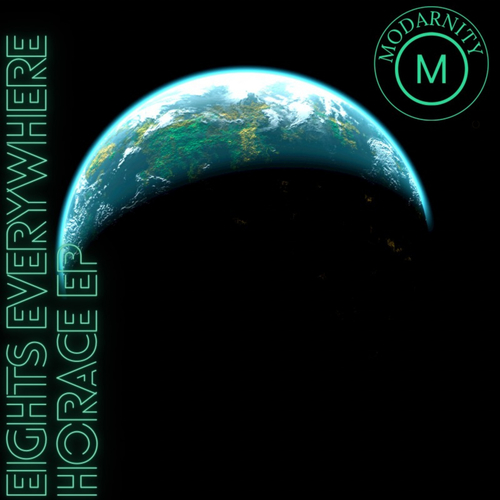 Listen To 'Horace EP' By Eights Everywhere
In a recent display of aptitude and originality, Eights Everywhere have teamed up with the imprint 'Modarnity' to produce a propelling EP 'Horace', made up of 2 Techno anthems disparate in character but equal in sustenance to bring about a deliciously dark sound that is bound to turn heads in the industry. Eights Everywhere have been on a steady rise to prominence in recent times as they maintain a busy schedule of heavy-weight releases that are continuing to capture the imagination of lovers of underground electronic music across the planet. In a saturated world where it seems there are thousands of new Producers and Artists appearing from the depths every week, Eights Everywhere stands up and rises above the busy pool of competition as is always the case in this business. The California based imprint 'Modarnity' have built a reputation on the backbone of their belief that media should be honest, whilst developing a knack for the curation of a plethora of small-time artists who have since seen success through working together with them.
The EP starts off with Horace, a hard-hitting psychedelic stormer that kicks off with a pulsing kick drum that drives the track forward followed by a flurry of speaker splitting lasers that build up an undeniable, pensive rhythm that would go down a treat in any Techno bunker rave. The bass gives way for a breath of fresh air as the kicks and basslines pause, allowing the acid leads commence – tension rises as a barrage of ominous synths build up to melting point before the energy quickly changes gear as the funky bassline drops into full force, transforming into something that deserves a spot in any main room.
Featuring as the second anthem on the EP is Knead, a deep and shadowy track that flips the vibe on its head to heighten the tension and bring about some serious driving Techno. Knead kicks off with an intense rubbery bassline combined with sharp and skippy off beat high hats to deliver pure undulating, bass-driven sounds guaranteed to deliver pure Techno fury. As we approach the first break, Eights Everywhere strips the track down to its bare elements, exposing the washed FX drenched in reverb delivering ultimate trance vibes before we are thrown into the main body of the production that unleashes a perfectly executed baseline and kick tag team driven by a flurry of laser effects that shoot right through your core and leave you rattled as you dance your way through the journey.
Eights Everywhere is without a doubt becoming more prominent in the scene as they push their prominent sound across borders to reach lovers of Techno around the globe. It's clear to see that Eights Everywhere is on a steady rise and are in the position to bring us more music and fun than they've ever brought before – If you're into punchy tech beats, filthy underground sounds and pure driving acid Techno, give them a listen!
Stream the Horace EP
https://soundcloud.com/eightseverywhere
https://open.spotify.com/album/2tH4d5t350EUD3vrVMaFQq?si=bkB_3fxmS-CZIcIefQqt6A
Eights Everywhere Online
https://linktr.ee/Eightseverywhere
Modarnity Online
https://modarnity.com/
https://www.instagram.com/modarnity/?hl=en
https://www.facebook.com/Modarnity/