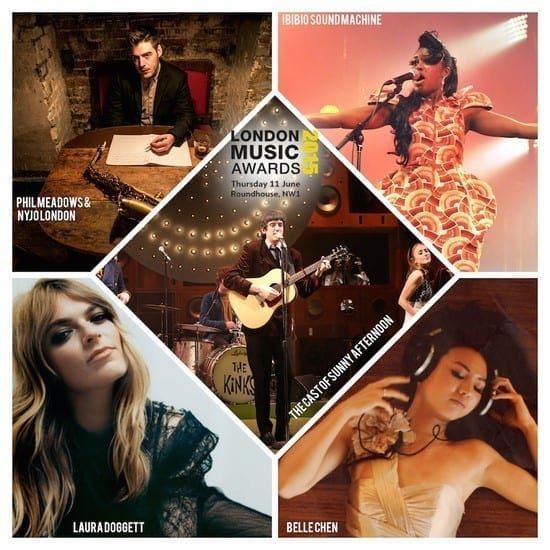 London Music Awards Announce Performers
The Mayor's Music Fund is delighted to announce the acts that will perform at this year's London Music Awards. Reflecting the capital's wealth of talent, and the achievements of its aspiring young musicians, rising stars and legendary performers, each act highlights London's rich musical diversity.
Commenting on the performers Mayor's Music Fund Chief Executive, Ginny Greenwood, said: "What makes the London Music Awards stand out in a crowded market of awards events is that it showcases talent across many music genres and many decades. The musicians performing at this year's event are no exception – from 10-70 years old they span pop & rock, dance & electronica, jazz and classical – a true reflection of the London music scene".

The London Music Awards team are very pleased to confirm that the cast of Sunny Afternoon will be making a special appearance to close this year's event. Based on the music of one of London's most iconic bands, The Kinks, Sunny Afternoon has been a huge hit at the Harold Pinter Theatre, receiving rave reviews, and winning four Olivier Awards, including Best New Musical. The soundtrack of London for 50 years, The Kinks' music is synonymous with the city, and is sure to provide a stirring and memorable finale for the second London Music Awards.
Composer & Songwriter Rising Star nominee, Laura Doggett will make an appearance, showcasing her soulful voice which has garnered her widespread praise. An RCA signed singer songwriter who has recently supported Years & Years, Laura headlined the BBC Introducing stage at Radio 1's Big Weekend and will be supporting Taylor Swift at British Summer Time in Hyde Park this summer.
The stage at Roundhouse will also play host to Ibibio Sound Machine. Nominated in the Dance/Electronica category, the eight piece band was formed in London, and combines elements of West African highlife, disco, post-punk and psychedelic electro soul. Noted for their refreshingly un-retro approach that has been influenced by the multi-cultural band's London surroundings, they have recently played some of Europe's biggest festivals, and appeared on the prestigious Later with Jools Holland TV show.
Acclaimed pianist Belle Chen will be on hand to entertain the awards' crowd with a solo recital. Described as 'original and provocative' by Brian Eno, Belle has accumulated an impressive haul of awards in her short career, most recently receiving the Curator's Choice for Music Award at 2014 NOISE Festival. With a constant desire for musical challenges, Belle recently founded VISUALISE!, an initiative that explores how classical music is heard by people in the 21st Century.
The evening's entertainment will commence with a performance by NYJO London, conducted by Phil Meadows. NYJO London is the National Youth Jazz Orchestra's London-focussed ensemble with a youngest member aged 10. Meadows, who has been nominated for the Rising Star award in the Jazz category, is regarded as one of the UK's most creative young jazz musician; his Engines Orchestra is Parliamentary Jazz Ensemble of the Year. Phil was, until recently, lead alto of NYJO, which has been supporting the very best emerging British jazz talent for the past 50 years.
The Awards night, which has attracted huge support from the music industry, including PRS for Music, Live Nation, the Mackintosh Foundation, ABRSM, PPL UK, Time Out, Universal and AEG Live, will be presenting awards in 12 categories. Categories include Mayor's Music Fund Outstanding Scholars, and Musical Partnership, Music Excellence in Schools, Music Philanthropist, Londoners' Favourite Music Venue, Global Export, London Legend and five Rising Star awards.