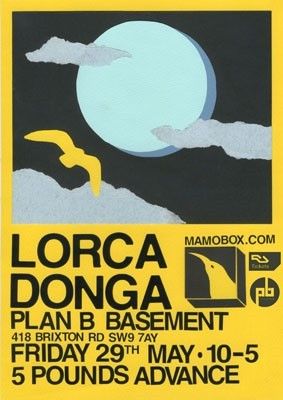 Lorca and Donga – MamoBox at Plan B
MamoBox – A South London party reflecting our love for great records and keen dance floors.
Following a few chats at a record store and an evening at a Sam Smith's pub, we acted on starting a straightforward, homegrown club night. A night with records and DJ's that represent our favourite strands of underground dance music in an intimate space.
Our launch features two selectors whose mixes, productions and releases have energised us for years.
LORCA
Lorca has enjoyed an impressive climb as both a producer and DJ. His bass-flecked house (on labels like 2020Vision and Breach's Naked Naked imprint) sits perfectly within his inventive sets. Lorca's talent for working a dance floor has led to acclaim and support from Bonobo, Pete Tong and Dusky. With huge bookings under his belt (Fabric, Berghain, Bestival and Dimensions) and a busy festival season approaching, we're extremely pleased to present Lorca as our headliner.
DONGA
A true heavyweight with as much experience as we could ask for. Donga's Well Rounded Records stands as a linchpin of vibrant and progressive nightlife, releasing outstanding material. These 12"s from Hackman, XXXY and South London Ordnance are rarely missing from our record bags. This underground champion has an unshakeable reputation for expertly curated sets and an incredible record collection.
Lorca
Donga
MamoBox DJs
Plan B Basement, 418 Brixton Road, London SW9 7AY
Friday 29th May 2015
10pm – 5am
£5 Advance / £10 On The Door