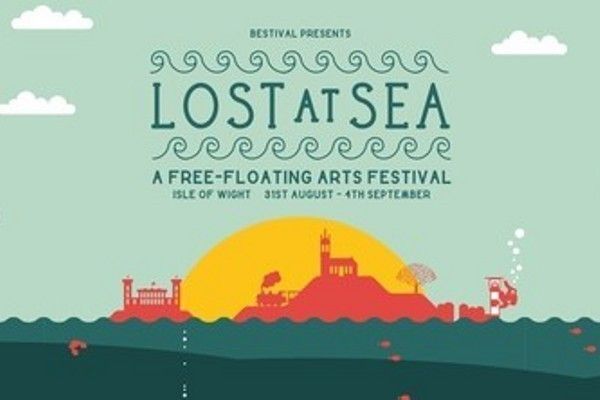 Lost at Sea
Passionate about changing the face of independent festival culture, the team behind Bestival, winner of the Best Major Festival 2012 and the multi-award winning Camp Bestival are proud to present something brand new and unique, Lost at Sea, a free-floating arts festival on the Isle of Wight. Featuring an exciting and eclectic programme of music, film, talks, theatre and comedy, Lost at Sea will be held in an array of distinctive venues around the UK's most treasured island.
Rob da Bank says: "Ever since we started Bestival a decade ago we've met so many interesting musicians, film makers, artists, actors, poets, philosophers and all round free thinkers on the Isle of Wight. For a while I've thought about running a small and wide ranging arts and thought festival on the Island and myself and everyone else at Bestival HQ are very proud to announce our inaugural Lost At Sea. In 2013 we're presenting a finely curated and wide range of events from talks on food sustainability, to Edwardian train adventures, to sea shanty sessions and a concert of improvised jazz. I hope you'll join us for a mind expanding adventure on this beautiful island."
Jay Rayner, who will be hosting a dinner as part of Lost at Sea says: "I'm delighted to be a part of the brand new Lost at Sea Festival, and to be bringing my Greedy Man In A Hungry World show to the Isle of Wight. There can be few better ways to debate knotty issues around food than over a good dinner."
Taking place from August 31st to September 5th in the lead up to Bestival, Lost at Sea offers a range of delights for all ages and tastes, whether you are a curious islander, a discerning Isle of Wight visitor or an adventurous Bestival veteran. You can purchase separate tickets for each event, making Lost at Sea an accessible and affordable new festival for everyone.
With a wealth of cultural treats on offer why not join us for Rob da Bank's King Kong Alternative Soundtrack in the woods; revel in a theatrical Edwardian steam train adventure; savour supper with acclaimed food critic Jay Rayner; see jazz legend Courtney Pine performing in a Minster; have a laugh with Andrew Maxwell; witness the Amazing Bubble Show; sway along to Sea Shanties; ponder some Philosophy Bites and behold HAG's enchanting theatre and puppetry.
But most of all enjoy getting Lost at Sea!

For more information and full listings information on Lost at Sea please visit www.lostatseaarts.net
Ticket Info www.ticketline.co.uk / 0844 888 4410