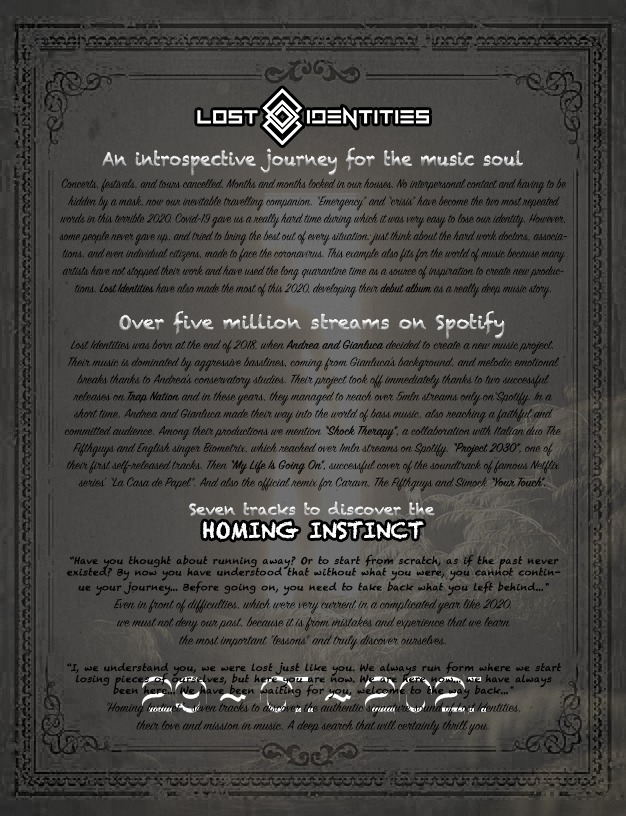 Lost Identities ready to drop debut album "Homing Instinct"
Two sound seeking souls into a deep introspective journey that will definitely thrill you. 
Italian duo Lost Identities, after the release o "Shine" feat. Onyra, dropped the single "Any Other Way" feat. Anna Vellington. This double shot isn't casual. The melodic dubstep project definitely announced the release of their debut album "Homing Instinct" coming next 29th January.
Over five million streams on Spotify
Lost Identities
was born at the end of 2018, when
Andrea and Gianluca
decided to create a new music project. Their music is dominated by aggressive basslines, coming from Gianluca's
background, and melodic emotional breaks thanks to Andrea's conservatory studies. Their
project took off immediately thanks to two successful releases on
Trap Nation
and in these years, they managed to reach over 5mln streams only on Spotify. In a short time, Andrea and Gianluca made their way into the world of bass music, also reaching a faithful and committed audience. Among their productions we mention
"Shock Therapy"
, a collaboration with Italian duo The Fifthguys and English singer Biometrix, which reached over 1mln streams on Spotify.
"Project 2030"
, one of their first self-released tracks. Then
"My Life Is Going On"
, successful cover of the soundtrack of
famous Netflix series'
"La
Casa de
P
apel
"
. And also the official remix for Caravn, The Fifthguys
and Simock
"Your Touch".
Seven tracks to discover the "Homing Instinct"
"Have you thought about running away? Or to start from scratch, as if the past never existed?
By now you have understood that without what you were, you cannot continue your journey…
Before going on, you need to take back what you left behind…"
Even in front of difficulties, which were very current in a complicated year like 2020, we must not deny our past, because it is from mistakes and experience that we learn the most important "lessons" and truly discover ourselves.
Tracklist
The way Back – Overture (feat. Shimi)
Shine (feat. Onyra)
Past Calling (feat. Jon Becker)
Home (feat. Biometrix)
Any Other Way (feat. Anna Vellington)
LOST (feat. Onyra)
Falling – Finale (feat. Shimi)