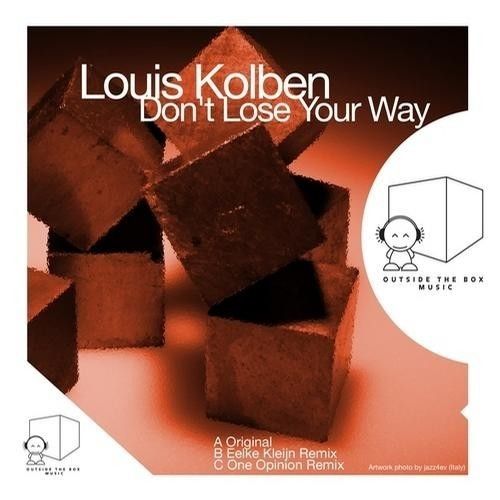 LOUIS KOLBEN – DON'T LOSE YOUR WAY
The producer who captured the summer with the instant classic 'Ein Tag Am Strand' – Eelke Kleijn – turns his attention once more to remixing duties with a track you won't want to miss. His remix of 'Don't Lose Your Way' by Louis Kolben is yours to download free today.

With bass turned up to a pounding pace and complete with the pitch perfect production for a house anthem we're now accustomed to, his 'Get Lost Edit' of Kolben's original is a phenomenal deep house rendition. Coming courtesy of his very own imprint, Outside The Box, this one got fans in raptures upon first listen as part of Kolben's debut EP on Eelke's label a few months back.

From the word go Eelke injects the signature precision that's evident in all of his production works, combining crisp percussion with an added sense of urgency to create a new dynamic within the track. Stripping the melody from the main hook of the original, he lets the heavy bottom end roll in and then gradually adds the atmospheric, techy top notes from the first cut back in. This sets up unbelievably emphatic drops throughout as the bass and then beat drop away, before being reintroduced to colossal effect!

Always eager to share his talent and passion with the world, Eelke is set to take a break from his prolific turns in the studio and is about to cross the globe for a mini-tour of Australia to give fans there a chance to witness and enjoy his mesmerizing live shows. What's more, to celebrate this next musical excursion and give fans a taste of what's in store for them, he has just released the latest episode of the 'Outside The Box' Podcast series where you can hear all the latest and greatest to be exciting the ears of this extraordinary talent alongside his own sumptuous creations. Get the free download here.

EELKE KLEIJN – AUSTRALIA TOUR

Friday 29th November: The Burdekin, Sydney, Australia
Saturday 30th November: Earthcore Festival, Victoria, Australia
Sunday 8th December: Subsonic Music Festival, Sydney, Australia
www.eelkekleijn.nl
facebook.com/eelkekleijn
twitter.com/eelkekleijn
youtube.com/eelkekleijn
soundcloud.com/eelke-kleijn