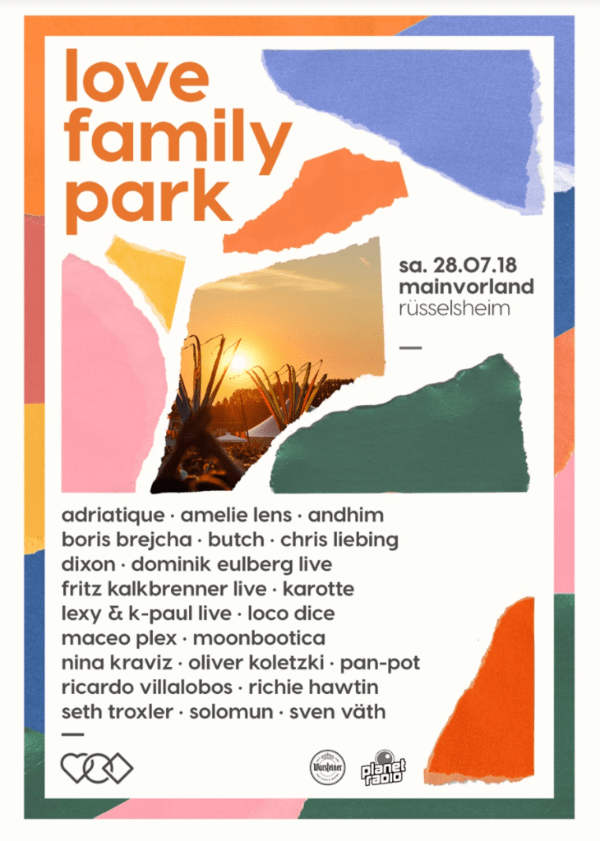 Love Family Park annnounces more acts…
Love Family Park returns for 2018 in lush new Rüsselsheim location with all-star lineup featuring Richie Hawtin, Nina Kraviz, Sven Väth, Solomun, Fritz Kalkbrenner, Seth Troxler, Loco Dice, Ricardo Villalobos, Boris Brejcha, Amelie Lens and more announced
LOVE FAMILY PARK 2018
SATURDAY 28 JULY 2018
10AM – 10PM
Rüsselsheim, Main, Germany
Info & tickets: www.lovefamilypark.com and www.facebook.com/lovefamilyparkfestival
Some things in life go together just perfectly, especially Love Family Park, a massive electronic music festival and a luscious green space. After two solid years at Messepark Mainz, Germany's oldest open-air techno festival is back with a bang in a brand new location on the idyllic shores of the river "Main" in Rüsselsheim, Germany. Making it's Rüsselsheim debut on 28th July 2018, Love Family Park boasts an all-star line up some of the biggest names in underground music with Richie Hawtin, Nina Kraviz, Sven Väth, Solomun, Fritz Kalkbrenner, Seth Troxler, Loco Dice, Ricardo Villalobos, Boris Brejcha, Amelie Lens, Pan-Pot, Chris Liebing and many more heavy weights set to soundtrack the 22ndinstalment of Love Family Park.
For one day only, the green surrounds of Mainvorland will be transformed into an all encompassing, sonic playground, where hedonistic electronic aficionados can lose themselves in music. Across 12 hours, upon three stages, Love Family Park announce an iconic set of 22 revered selectors, spanning the founding fathers, and the rising stars of the underground. An essential part of Love Family Park, key player Papa Sven Väth is the leading light, joined by techno pioneer, Richie Hawtin. Plus, Diynamic's very own Solomun makes his anticipated return following his epic 2016 debut. Needing no introduction, eclectic selector, Ricardo Villalobos, returns ready to take dancers on a mesmerising sonic journey.
Also heading up the bill is Russian royalty, Nina Kraviz, taking dancers on a wild ride through acid jams and relentless techno. Superstar on the rise, the awe-inducing Amelie Lens brings her signature slamming selection to Rüsselsheim with, Boris Brejcha and Maceo Plex also set for a Love Family Park debut. Expect jackin' beats and melodic house from Butch and flawless sets from Frankfurts finest, CLR boss Chris Liebing. Hedonistic moments come courtesy of festival mainstays, Adriatique, with andhim on hand for emotive highs and epic drops. Repping for seminal label, Innervisions, the mightyDixon is set to cast a spell on dancers with his globally revered craftsmanship. Party purveyor, Seth Troxler is on hand to reflect the sunshine, spinning feel-good vibes, plus there's intergalactic duoMoonbootica.
There'll be live sets from Dominik Eulberg and Lexy & K-Paul, with Fritz Kalkbrenner also bringing his electrifying live show to Russelsheim. Also heading to the lush new riverside site, Cocoon resident, Karotte brings his inspiring, genre-defying turntable wizardry to Love Family Park after garnering serious attention from his last LFP performance with revered label mate, Oliver Koletzki in tow. Adding serious heat, returning are techno titans, Pan-Pot, the staple duo ready to tear it up. An absolute festival highlight, fall into a rhythmic trance with big room legend, Loco Dice, returning to lay down seamless sets.
Between 10am and 10pm, Love Family Park is an incomparable all dayer, uniting thousands of party-people from across the globe for a celebration of the world's finest techno and house. Taking place on Mainvorland Rüsselsheim. Love Family Park is an essential date on the European festival calendar. With various transport offers for attendees from France, Switzerland and Germany head to the website to book your journey, fuss free. http://www.lovefamilypark.com/anreise/partybusse/index_ger.html Flights from London to Frankfurt, are just £89 and take just 1hr 30 minutes. With a wealth of accommodation just a stone's throw away, there's a place to rest whatever your budget, style or group size. Fans who want to experience Love Family Park should act fast – Early bird tickets have already sold out, but first release tickets are now on sale at €45, via www.lovefamilypark.com