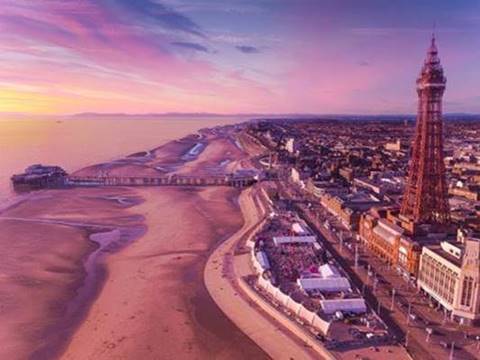 New Three-Day Event 'Blackpool Festival' Launches At The Iconic Blackpool Tower Headland
Brand new and all-encompassing Blackpool Festival is set to take place from Friday July 6th to Sunday July 8th at the iconic Tower Festival Headland on the world-famous promenade. The just announced lineup will feature a mouthwatering mix of contemporary house and tech house stars alongside legendary world class spinners, including Faithless (DJ set), Roger Sanchez, Danny Howard, Josh Butler, Pirate Copy, Endor, Mason Maynard, Paul Oakenfold, Erick Morillo, Altern8, Todd Terry, Judge Jules, Dave Pearce, Utah Saints, Marco V, Solarstone, Darren Styles and tons more. Over four stages plus a VIP area, Blackpool Festival comes in association with Back To The Old Pool – a one day house classics and rave culture festival that made history in 2017 as the first dance event to be held at the Tower Festival Headland. It brings with it definitive northwest brands such as The Syndicate, Sanctuary, More Cake, HQ, and the internationally acclaimed Hed Kandi, to cater for a wide-range of musical tastes. Both day and weekend tickets are now on sale from £35 and £75 respectively and can be purchased from www.blackpoolfestival.co.uk.
The fun-filled and musically jampacked Blackpool Festival is bringing something new to Blackpool. The Friday and Saturday programme is designed to take you through the many different scenes and styles of dance music from over the years, with Friday showcasing a more contemporary lineup of in-demand electronic acts, whilst Saturday pays homage to 30 years of house music with a mix of pioneering veterans and legends of the scene. Sunday takes a different turn and becomes 'Party On The Prom, Blackpool's first family festival and comes in association with acclaimed family brand, Gloworm,to offer plenty of exciting entertainment for all the family to enjoy.
Watched over by one of the UK's most recognised landmarks, Blackpool Tower, and with views out towards the Irish Sea, the location for the Blackpool Festival makes it special indeed.
Friday showcases some of the hottest names in house and tech house all serving up sizzling sets of forward thinking sounds. Catch a headline DJ set fromFaithless, who are behind some of dance music's biggest anthems from 'God is a DJ' to 'Insomnia', to the pioneering New York house producer and Grammy Award winner, Roger Sanchez.
Then comes Radio 1 tastemaker Danny Howard, who has residencies all over the world and runs his own Nothing Else Matters label. Hot from appearances at London's Fabric and on Radio 1 with Danny Howard, is Pirate Copy, who'll bring his distinctive energy from Manchester to Blackpool; plus TMTR and Armada associate Endor who regularly guests on Rinse FM and has his own show on Reprezent. Mason Maynard and Josh Butler are also on the bill who, between them, have clocked up plenty of underground hits on taste making labels like Avotre, MadTech and Defected. Further support comes from Grant Mizon, Rich James, Mike Reevey, James Chum, Calmol, Mikx & Khaki and Feud ensuring all bases are covered.
To Saturday, one of the main attractions is the celebration of 30 years of house music on the Main Stage, which will see enduring pioneers of the genre from around the world line-up and offer a real history lesson. From the USA, Subliminal label boss and house tastemaker, Erick Morillo; UK acid house innovator turned Vegas superstar, Paul Oakenfold presents Spectrum; New York's Todd Terry, who has defined a deeper style of house for the last 30 years; plus former Radio 1 influencer and dance music hero, Judge Jules. Additionally, original Hacienda superstar DJ and Hacienda Classical founder,Graeme Park, a live PA from vocalist Abigail Bailey, Seb Fontaine, hit makers, Utah Saints, and The Syndicate's prominent DJ, promoter and Blackpool Festival Director, Jason Fubar. Expect mesmeric lights, lasers, killer sound systems and spine-tingling atmospheres.
The Syndicate was synonymous with Blackpool clubbing and the trance scene from December 2002 until its closure in August 2011, bringing many international superstars to Blackpool. It returns to host a special arena jam-packed with classic stars such as Paul Oakenfold, who'll play a Perfecto Fluoroset, as well as dance anthems main man Dave Pearce, plus Marco V, Solarstone, Menno De Jong and many more.
Wigan old skool brand More Cake has been bringing rave classics to the northwest of England for more than a decade now. Rave icon, Altern8, will play a special 30 years of acid house set at the More Cake arena. Altern8 aka Mark Archer will have a double celebration on the cards as his 50th birthday falls on the day of the festival! Alongside him will be fellow old school greats like Slipmatt, Stu Allan and Mark XTC, who will kick-start the party like it's 1988.
As well as a wealth of live PAs, MCs and percussionists, Blackpool-born party-starters Sanctuary, behind raves all over the northwest, will host an arena. They bring a classic Bounce 'Clubland' Music sound with the likes of Darren Styles, Public Domain, Ultrabeat (Chris Henry) and Andy Whitby.
While those who like their sounds more glam and funked up will love the Hed Kandi VIP arena with key names like David Dunne, Andy Norman, Chris Frater and John Jones. Blackpool's own New York loft-style club, HQ, will host the VIP arena on Friday at the Blackpool with a house and tech lineup yet to be announced.
As well as all the non-stop musical offerings covering so many different bases, festival goers can also expect plenty of extras including a fun fair, food village, posh nosh, quick service at the bars with a token system, merchandise stalls, chill zones and much more besides.
Tickets for Blackpool Festival are now on sale and are available in day or weekend options to suit differing party tastes. Friday day tickets cost £35 and £50 VIP, and on Saturday, it's £45 per day ticket or £60 VIP, all plus booking fees. Double tickets for both Friday and Saturday cost £75 and £100 VIP. As well as access to another arena of music, VIP ticket perks include, private bar, posh toilets plus queue-jump entry on arrival.
To keep up to date with further announcements from Blackpool Festival 2018, follow on Facebook at www.facebook.com/blackpoolfestival