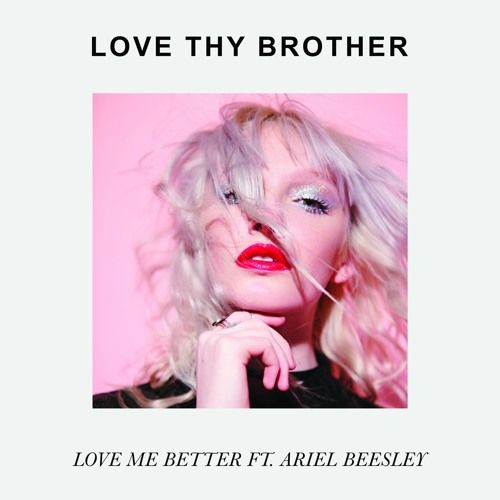 Love Thy Brother - Love Me Better Feat. Ariel Beesley
In the wake of the successful release of their debut single which premiered on Billboard and was one of the top 25 most streamed tracks on Soundcloud for the month of July, Canadian sibling musical duo Love Thy Brother present the official music video for "Love Me Better" featuring vocals from LA-based artist and songwriter Ariel Beesley.
Following non-stop chart topping remixes of similar emotive songstresses like BANKS, Kiiara, and Lana Del Ray, "Love Me Better" is an anthemic emotional piece of synth-pop that speaks out against the shallow games and indifference that have become characteristic of millennial relationships. The instrumentally-textured dreamy pop ballad is paired with an official music video which premiered on Consequence of Sound.

The video, directed by Montreal-based producer and director Emilie Lavoie, is a sinister contrast to the track's upbeat and lighthearted melodies. Tapping into the darker lyrics of the song, the video follows Beesley through her twisted and confused daydreaming as she goes on a gruesome killing spree of her fictionalized lovers, creating a disturbing video inspired by twisted coming-of-age flicks.
"For this project, I wanted to find a way to contrast the seemingly innocent, melodies & lyrics of the track with more gruesome, unsettling, imagery and storylines that would help surface and give new meaning to themes we felt were underlying in the writing," Lavoie said. "I wanted to deconstruct the storyline as much as possible and I wanted the images to speak for themselves, leaving as many blank spaces as possible."
ABOUT LOVE THY BROTHER
Hailing from Toronto, Canada, brothers Conor and Liam Clarke have united their unique backgrounds and styles with their shared love of classic electronic dance music to create their visionary electronic music collaboration, Love Thy Brother. While Conor is the CEO of artist marketing platform Wavo and a classically trained musician with an orchestra background, Liam is already an acclaimed composer and his work for television, film and brands has been lauded by Esquire, Entertainment Weekly, NYDaily, GQ and NBC. Together the siblings have gained popularity worldwide with their unique sound that blends deep, melodic techno and house with a crossover appeal– bridging gaps from the underground to the mainstream since 2007. Recently signed to San Francisco's Bright Antenna Records, the musical duo is working away in the studio to release an assortment of new original music this year.