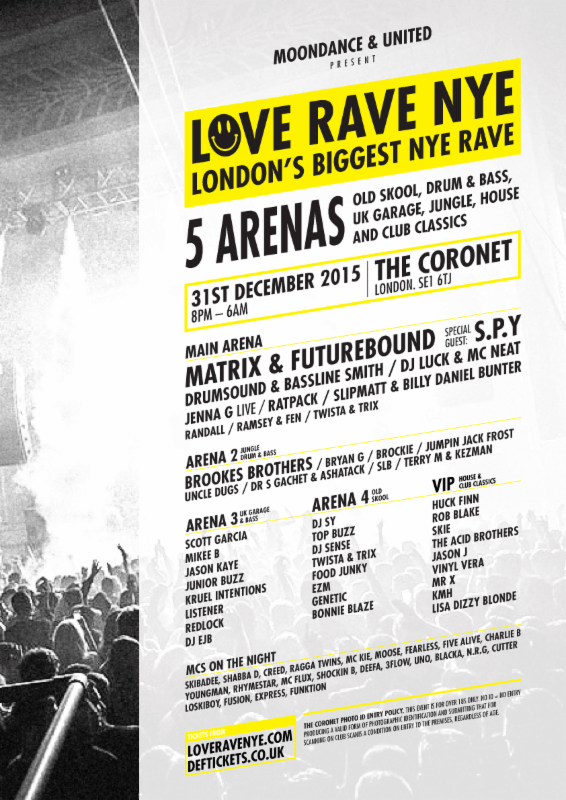 Love Rave NYE
Following the success of the second sold out United Festival and more than a decade of sold out Moondance NYE events, Moondance and United join forces to offer London's biggest NYE rave at the infamous Coronet Theatre.
Celebrating twenty five years of UK rave culture, LOVE RAVE NYE will extend across five arenas of music with Old Skool, Drum & Base, UK Garage, Jungle, House and club classics from over seventy five of the scenes most revered figures offering ten hours of non-stop dancefloor grooves to see in 2016.
For those wishing to welcome the new year in style, VIP ticket holders will benefit from an exclusive arena of music, private bar, private spoking area, VIP toilets and queue jump entry.
First release tickets start at just £15 for standard and £30 for VIP.
+++
MAIN ARENA
Matrix & Futurebound
Special Guest: S.P.Y
Drumsound & Bassline Smith
DJ Luck & MC Neat
Exclusive Midnight Live PA: Jenna G LIVE singing 'Midnight' & 'In Love'
Ratpack (Midnight Set)
Slipmatt & Billy Daniel Bunter
DJ Phantasy & Nicky Blackmarket
Randall
Ramsey & Fen
Twista & Trix
JUNGLE / DRUM & BASS ARENA
Brookes Brothers (Midnight Set)
Bryan G
Brockie
Jumpin Jack Frost
Uncle Dugs
Dr S Gachet & Ashatack
SLB
Terry M & Kezman
UK GARAGE & BASS ARENA
Scott Garcia (Midnight Set)
Mikee B
Jason Kaye
Junior Buzz
Kruel Intentions
Listener
Redlock
DJ EJB
OLD SKOOL ARENA
DJ SY
Top Buzz
DJ Sense (Midnight Set)
Twista & Trix
Food Junky
EZM
Genetic
Bonnie Blaze
VIP HOUSE & CLUB CLASSICS ARENA
Huck Finn
Rob Blake
Skie
The Acid Brothers (Midnight Set)
Jason J
Vinyl Vera
Mr X
KMH
Dizzy Blonde
MCs on the night: Skibadee, Shabba D, Creed, Ragga Twins, MC Kie, Moose, Fearless, Five Alive, Charlie B, Youngman, Rhymestar, MC Flux, Shockin B, Deefa, 3Flow, UNO, Blacka, N.R.G, Cutter, Loskiboy, Fusion, Express, Funktion