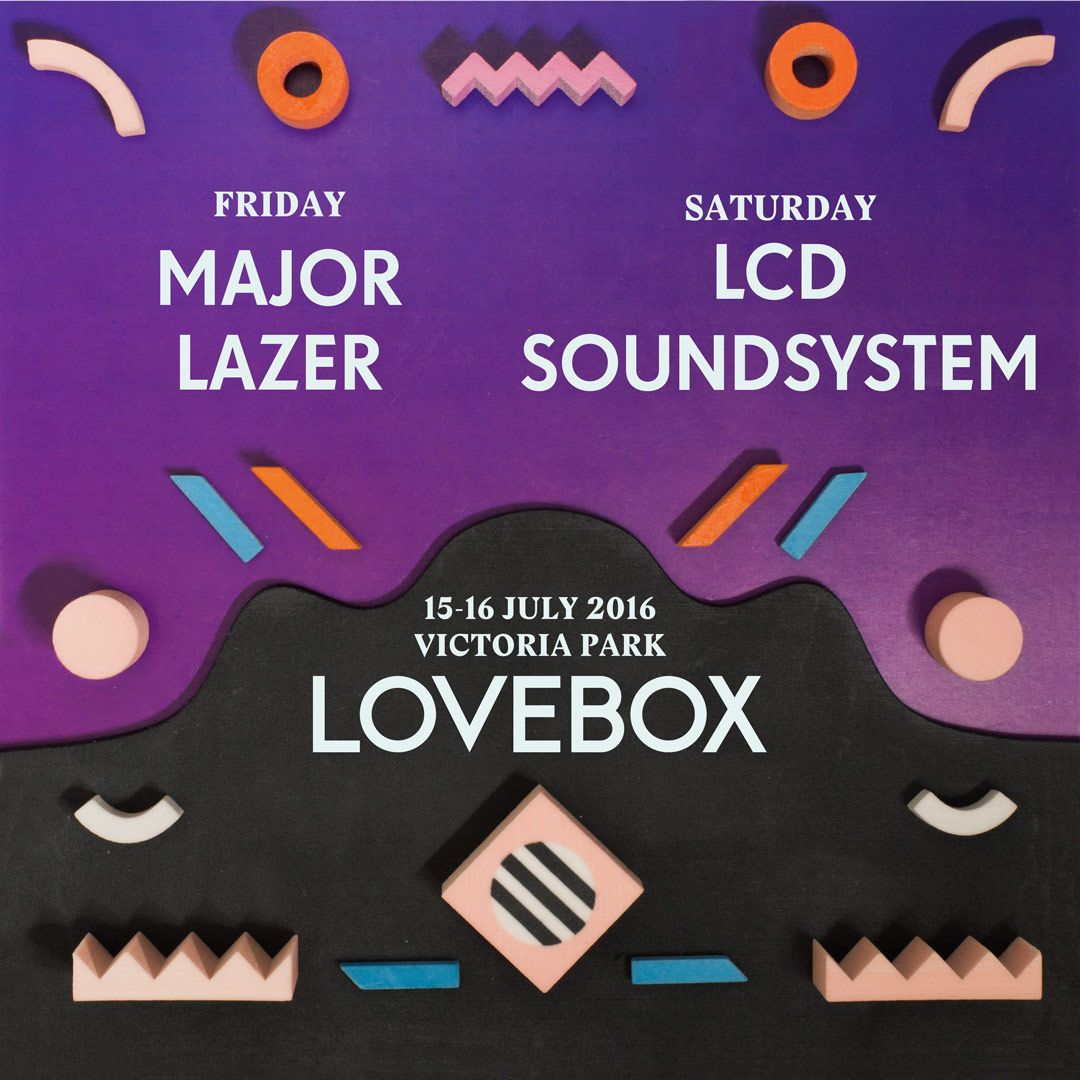 Lovebox announce headliners LCD Soundsystem & Major Lazer
This year, Lovebox looks into both the past and the future with its two headliners.
Step forward the beloved dance-punk outfit who called it a night five years ago with a spectacular send-off in the form of a massive concert at Madison Square Garden. We're talking, of course, about LCD Soundsystem – and Lovebox are delighted to play a part in their much-hyped return, after a five-year hiatus.
The New York band's career saw them release three critically acclaimed albums, iconic tracks including 'Daft Punk Is Playing At My House' and 'All My Friends', and win a legion of loyal fans thanks to their unique brand of wistful, self-deprecating alt-disco. Now, 2016 will see the group release brand new material, which is set to continue the band's incredible story. LCD's comeback is not just a "reunion tour" – as James Murphy himself beautifully defined it in his personal essay on the band's website; it's "the bus full of substitute teachers back from their coffee break with new music and the same weird gear."
This special headlining set, which will also see James Murphy and co revisit classic tracks from their decade-long career – and return to the Park after Murphy's Despacio soundsytem hit Lovebox 2015 – will make for an unforgettable, unmissable show that will be a defining moment of festival season.
Next up is an ever-experimental, multi-genre tour de force who have built up a solid reputation as one of the finest live acts on the planet. Formed in 2008 as a conceptual electronic act by super-producer Diplo – and fronted by a cartoon character – Major Lazer have become a standout name and cult favourite in its own right thanks to its kaleidoscopic amalgamation of genres and influences, spanning reggae and dancehall via electronica and house.
In 2015, the group released third album Peace Is The Mission, and the reaction to ubiquitous lead single 'Lean On' (which became a global phenomenon, the video to which has racked up one billion views and counting) saw Major Lazer cement their status as a very modern pop act; chart topping yet credible, with an irresistibly uplifting message and hooks that beckon you to the dancefloor. The band are set to continue their winning streak with the release of fourth album Music Is The Weapon, due out in 2016.
When this euphoric, colourful carnival rolls into London to headline the Lovebox Main Stage on the Friday, there will be fireworks – both literal and metaphorical.
These two impressive headliners are just a taste of things to come, with Lovebox still to announce a roll call of talent that spans genres and eras, taking place across two thrilling days in East London's glorious Victoria Park.
Tickets from £49.50 at www.ticketmaster.co.uk/lovebox
More info at www.loveboxfestival.com
Facebook: www.facebook.com/loveboxfestival
Twitter. www.twitter.com/loveboxfestival
Instagram: www.instagram.com/loveboxfestival