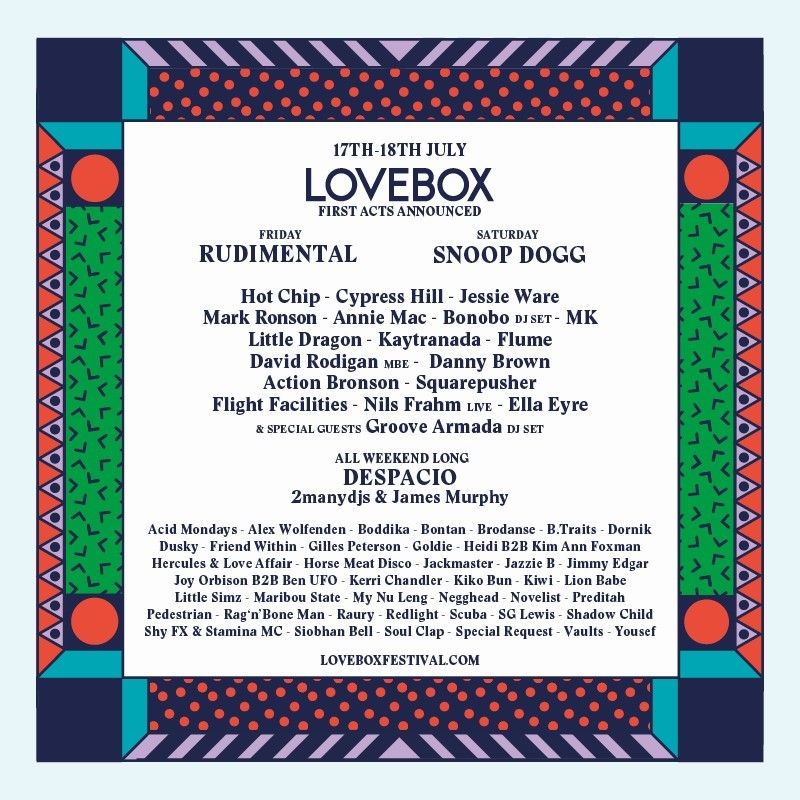 LOVEBOX ANNOUNCES LINEUP FOR 2015
London's most loved festival will unveil an impressive, eclectic roll call of talent this year following a successful chapter in 2014 when both days sold out in advance to a record audience of 80,000. Legendary perform-ers appear alongside the hottest new acts, spanning genres to create a potent but varied musical melting pot that demonstrates the colourful, diverse ethos that has always been at Lovebox's heart.
Lovebox are proud to announce two incredible headliners:
Rudimental and Snoop Dogg. Rudimental are the Hackney quartet and Black Butter records breakout act that defined the sound of current UK music with their debut album Home, which featured the massive singles 'Feel the Love' and 'Waiting All Night'. Their set at Lovebox will see them performing tracks from their eagerly-awaited, incoming sophomore LP and they'll be sure to start the party off right when they headline on Fri-day: "We are so happy to announce we're back on the Lovebox stage this summer. London, are you ready?!"
Saturday sees the one and only Snoop Dogg headlining. A hip hop icon, the inimitable Snoop will be showcasing tracks from his forthcoming Pharrell-produced album BUSH, which Snoop himself describes as blos-soming with a "funkadelic glow". With BUSH set to channel feel-good, retro-futuristic funk and R&B, it's sure to charm the Lovebox crowd as effortlessly as his classic tracks 'Gin and Juice' and 'What's My Name' will. Snoop says: "London wats craccn!?! I'm looking forward to come to my home away from home and rock that ish like I do best. It's going down don't meet me there beat me there. ugot2doit"
Across the entire weekend, the Lovebox masses will be treated to an ex-clusive set from Despacio, the innovative, custom-built soundsystem brought to you by LCD Soundsystem's James Murphy and 2manydjs. This is going to be an unmissable experience.
Another Lovebox exclusive is an extra-special A/V set from the revered Bonobo. His appearance is set to be immersive and unforgettable, as is Squarepusher's – his pioneering, experimental shows have wowed crowds the world over, and now he's set to stun Lovebox following a sold out show at the Barbican and the release of his highly-anticipated sixteenth album Damogen Furies.
Lovebox founders, Groove Armada return back to Victoria Park. The leg-endary dance duo will be behind the decks in a very special setting, and are delighted to be back. "First it was an album title. Then club nights in a strip club on Tottenham Court Road. Then it became a festival when we threw an outdoor party on Clapham Common," they say. "Finally, on Victoria Park, we found ourselves running a 65,000 person weekender. For the first time since handing over the keys to Lovebox in 2012, we're coming back to the park. Friday 17th July, on the Elrow turntables along-side Jackmaster, Acid Mondays, PBR and others. House music GA style, a London debut of a new house album, and trademark elrow circus may-hem."
Meanwhile, acclaimed composer and experimentalist Nils Frahm will al-so be making an appearance fresh from selling out the Barbican and two nights at The Roundhouse. This will also be his only festival appearance other than Wilderness, where he'll be warming up for the one and only Björk.
The rest of the line-up is equally as incendiary. Electro pop mavericks Hot Chip will be showcasing material from their highly anticipated sixth album "Why Make Sense?", as well as fan favourites such as "Over and Over" and "Ready for the Floor". The bewitching Jessie Ware will be gracing us with her elegant, heart-melting ballads, whilst Mark Ronson, fresh from conquering the charts with the epic disco grooves of "Up-town Funk", will be making a return appearance. Hip hop heavyweights Cypress Hill will be making their Lovebox debut, performing iconic tracks from their extraordinary 20 year (and counting) career, Swedish art pop quartet Little Dragon will be bringing their brand of wonky but delirious-ly catchy art-pop to the Lovebox masses, and award-winning Australian electronic artist Flume will also be getting the crowd moving.
Elsewhere, oddball rapper Danny Brown and New York MC Action Bron-son will be representing the cream of US hip hop, while the pop contin-gent will be satisfied by the presence of the rapidly ascending Ella Eyre and Australian sensations Flight Facilities. The dance mobs meanwhile will be sated by a stellar run of acts, including wunderkind bedroom producer Kaytranada, the ever influential Annie Mac, who has just tak-en the reins from Zane Lowe at Radio 1, and house legend MK, who says "I realize that I have more friends in London than at home, so it's kinda like I'm having a Lovebox house warming party ;)".
There is so much else besides as well, with Lovebox presenting a magnif-icent assembly of acts both on the rise and well established, from all across the musical spectrum. We have the heroic likes of Goldie, Jimmy Edgar, Kerri Chandler, Boddika, Shy FX & Stamina MC and Gilles Peter-son rubbing shoulders alongside nascent talent such as Lion Babe, Jackmaster, Little Simz, Raury, Dusky, Dornik, Novelist and Preditah, among others. There are also live collaborations between the hottest names in dance, with Joy Orbison B2B with Ben UFO, and Heidi B2B with Kim Ann Foxman.
Lovebox is thrilled to welcome 1Xtra and Radio 1 Essential Mix to the proceedings who will be hosting the hottest dance stage on Friday and Saturday respectively. From legends to new stars this is a stage set to take Lovebox by storm.
Music aside, Secret Productions' magical extracurriculars will provide an exciting itinerary of audiovisual delights for festivalgoers to sample and experience. Chris Tofu (AKA the Shangri-La superstar) and Global Local Productions will once again preside as Master of Ceremonies at the Bandstand, whilst Little Gay Brother will be bringing a bit of Vegas glamour to Victoria Park. Meanwhile, art/ technology "data visualisers" Fish Island Labs will be getting the crowds thinking and interacting.
This year will also see elrow hit London for a special Lovebox edition of their legendary, wild, chaotic Barcelona club night that interacts with its crowds in a very unique way. Explosive DJ sets will soundtrack playtime featuring inflatables, fancy dress, arcade games and so much more. It's a complete riot of fun, confetti, and offbeat characters and Lovebox can't wait to see elrow bring some sunny Spanish vibes (with a Bollywood twist) to Victoria Park for the first time.
There'll be more sunshine from The Corona Sunsets Stage, which will bring the sounds of the Balearics to Lovebox, heralding the setting of the sun in the time honoured fashion and heightening the energy as the night progresses into darkness. They'll be bringing the sound of the beach to Victoria Park in a magical setting.
A new project between The Roundhouse and Secret Forum will also be making its debut at Lovebox. The Voicebox will be a celebration of the human voice, with poetry slams, storytelling, beatboxing and more. Lovebox-goers will experience a variety of orators, poets, slam champi-ons, beatboxers and more that will hypnotise you with the power of speech. The Roundhouse says "We are thrilled to be launching a new venue dedicated to upcoming spoken word artists at Lovebox this sum-mer…. !".
In essence, Lovebox is shaping up to be the event of the summer…