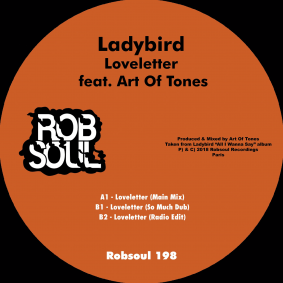 Ladybird, Art Of Tones - Loveletter
Ahead of her debut long player on the label in October, French vocalist Ladybird offers up her collaboration with Art Of Tones from the project as a single this September.
Julie Monnin, better known as Ladybird, initially made her mark in music as lead singer of French trio Soldiers Of Twilight before later embracing a solo career and gaining critical acclaim for her collaborative cut 'My Precious Thing' on Llorca aka Art Of Tones' debut LP for Laurent Garnier's F Communications imprint in 2001. Here we see the pair join forces again on Ladybird's debut long player for yet another emotive slice of electronic music.
The original mix of 'Loveletter' leads on the package with a snaking bass groove, winding arpeggios, dusty drum sounds and Ladybird's soulful stylings. The radio edit of 'Loveletter' follows reducing things to the core of the composition before the 'So Much Dub' interpretation follows, as the name would suggest dubbing things out to a raw, more hypnotic state.
Ladybird, Art Of Tones 'Loveletter' is out on Robsoul Recordings 21st September 2018.
Tracklist:
1. Loveletter
2. Loveletter(RadioEdit)
3. Loveletter(SoMuchDub)