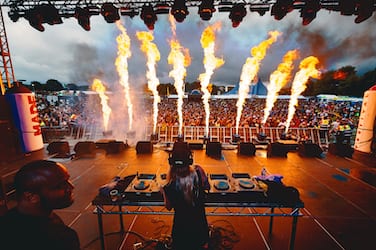 MADE Festival Announces Full Line Up For 2020 Edition
MADE Festival, the West Midlands's biggest and best electronic music festival and celebration of street culture, has announced its second wave of artists, adding to a massive line up as MADE Festival heads towards its 7th edition on Saturday 1st August and a brand new home at Sandwell Valley Country Park. Over 20,000 festival fans are expected to turn out as MADE expands following a sold out event in 2019, with artists already announced including The Streets in their biggest ever home town gig, Gorgon City, Wilkinson, Hybrid Minds, Stefflon Don and many others. The second wave of artists sees MADE Festival support a host of homegrown talent as well as more big names including High Contrast, Bru-C, A.M.C & Turno, Darkzy, Conducta B2B Sammy Virji, Bou B2B K Motionz, Low Steppa and more. Together with a mix of urban arts, creative performance, delicious street food and friendly faces, the stellar line up ensures an unforgettable day and night of festival adventures. MADE Festival is incredible value with tickets starting at just £45 +b/f or £70 + b/f for VIP from www.made-festival.co.uk.
MADE Festival has found the ideal home at Sandwell Valley Country Park on the outskirts of the second city; an outdoor venue set in 660 acres of stunning scenery. Still just 8 minutes from Birmingham New St to the nearest station by train, and with trams and buses always on hand MADE Festival are primed to deliver an unforgettable event with a typically diverse and forward-thinking line up from household names to underground rising talent, covering drum & bass, house, disco, hip hop and bass music.
High Contrast continues to push the boundaries of drum & bass. He's remixed everyone from Kanye West to Adele, co-produced Underworld's last album and was even asked to curate the music at the 2012 Olympics. High Contrast is a rare talent and MADE festivalgoers are in for a treat.
Bassline belters will be coming from CruCast stars, Nottingham's own Darkzy currently enjoying a headline UK tour with Window Kid, and Bru-C, the voice of the bassline generation. His debut album 'Original Sounds' has hit over 14million streams and 2020 looks set to be the year he seriously blows up.
Also lining up is Low Steppa. The Simma Black label boss has also released on the likes of Defected and Strictly Rhythm and remains one of the most vital and influential house DJs out there. Staying on a house tip, Pax are genuine rising stars with releases on Sola, Toolroom, Abode and more. The duo will return from a sold-out North American tour all primed for MADE Festival. Crazy P Soundsystem need little introduction – the disco dons are one of the most respected acts around and will dig deep into the record box to deliver some gems especially for MADE Festival. Jess Bays is another rising star in the house world. The Defected resident has two singles lined up on the legendary Glasgow Underground label and continues to evolve her unique chunky house sound with old skool vibes.
Another big highlight is the world exclusive of Kenny Ken B2B Kenny Ken. Those in the know will recognise the reference to the classic 'Raveageddon' parody advert from 2012. The advert went viral with one of its most memorable moments, the announcement of 'Kenny Ken back to back with Kenny Ken'. Now MADE Festival and Kenny Ken will finally deliver this legendary set for a one-time only deal – this historic moment should not be missed!
Also lining up on the MADE Stage alongside The Streets, Stefflon Don, Shy FX, Holy Goof and Jay 1, are Birmingham talents; Dapz On The Map, fresh from the success of his latest single 'Waiting'; Lady Sanity – always a favourite with MADE crowds; DJ Vital always ready with his uplifting club bangers; Birmingham UK Garage outfit Nice Underground, and local party starters Sum Cellar.
The Weird Science Stage keeps it drum & bass alongside Wilkinson, Hybrid Minds, SASASAS and of course Kenny Ken B2B Kenny Ken! A.M.C & Turno sure to bring some new dubs for the occasion, Bou B2B K Motionz set to show why they are both blazing a trail in D & B right now, Culture Shock fresh off a huge US tour with Sub Focus and Dimension, LFM showing off his undeniable skills as a D & B selector, dark beats from Traumatize, and Demo B2B Clifdon delivering some Brummie D & B.
Alongside Gorgon City, Sonny Fodera, Low Steppa, Pax and Jess Bays on the Afta Dark Stage is Alex Parkin B2B Will Power repping their Afta Dark parties to great effect, alongside hand-picked residents; Fleur Shore B2B Ryan Nicholls, and Tyron Amory B2B Shakti.
The 02:31 Stage sees Flava D, Darkzy and Bru-C dropping the basslines. Also lining up is Conducta B2B Sammy Virji, with Sammi getting 1Xtra props right now while Conducta's Rinse FM show keeps building. Talented MC Mr Traumatik will get the crowd jumping, as will Birmingham's own, Bassboy. Jamie Duggan heads down from Sheffield to start the party with his huge productions, while local legend Tom Shorterz will always deliver. More non-stop bassline madness comes from Vibe Guys, Tomfire B2B OJE, and Jade Marie B2B Jordanna.
Artwork, Horse Meat Disco, and Crazy P Soundsystem promise quality house and disco grooves on the 20 Years Of Leftfoot Stage. Adding to this are the Leftfoot DJs, bringing underground music to Birmingham since 2000, Selextorhood B2B Voyage – MADE are pleased to give a platform to Selextorhood who promote and empower women, female identifying and non-binary artists in Birmingham. Tekno Disco will be blending the genres of their name to keep everybody dancing.
The Police Rave Unit Stage will see some serious jungle and drum & bass from Serial Killaz, the legend Ray Keith, V Recordings boss Bryan Gee, Frenetic, Escape, and the Police Rave Unit DJs. Expect raving basslines from start to finish from that line up!
The Levels Stage presents some of the best up and coming regional talent including Tommy Vercetti, Brandon Ross, Guy Burns, Jack Gardner, Jordan Masters, and Paisley Jenson.
MADE Festival just keeps getting bigger and better – massive line ups, unrivalled atmosphere, more support for the best up-and-coming talent in the West Midlands, and cutting edge, cross-genre music from some of the most talented artists in electronic music. Now set in its new home at Sandwell Valley Country Park, for the first time, 20,000 festival ravers will come together to create something very special.