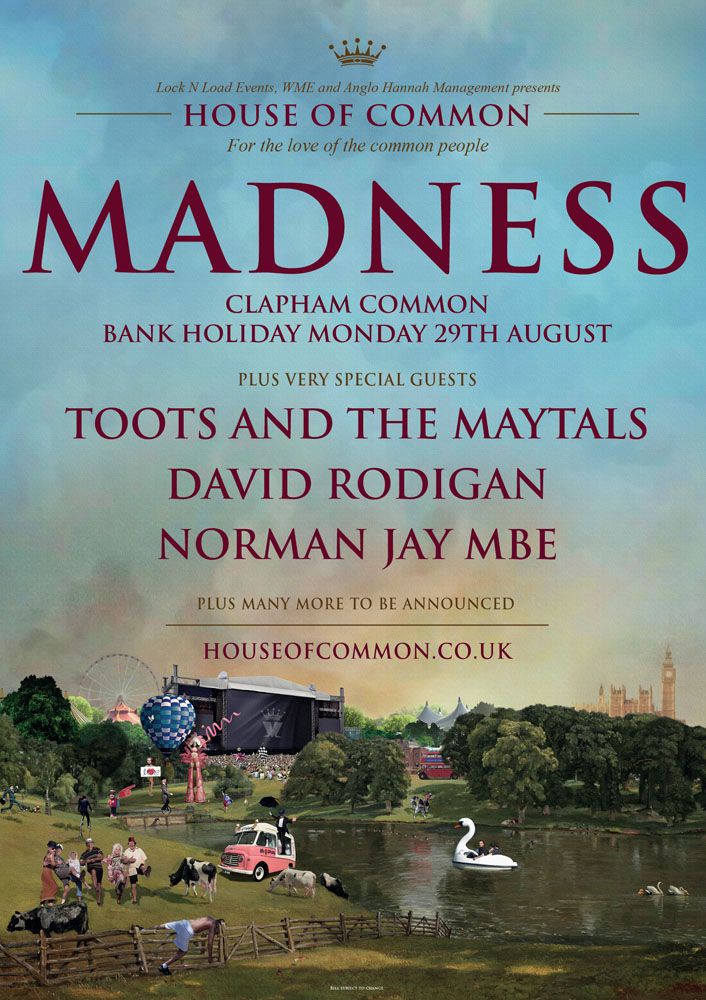 Madness presents House of Common
We are delighted to announce the next wave of very special guests joining us at House of Common on what's set to be a glorious August Bank Holiday Monday.
'House of Common' will play witness to a gathering of like-minded artists and fans, with the beautiful landscape of Clapham Common plays host to some of the most revered artists of our time. This unique and one off gathering will culminate in a musical experience that will live long in memory as one of Britain's best loved bands heads up a line up of over twenty bands and artists.
With the undeniable buzz and excitement already created by the announcement of Madness, we are sure that the next round of special guests joining the legendary group will create similar excitement around the masses!
The uptake on tickets has been simply phenomenal with 50% of all tickets now being sold. £27.50 tickets were snapped up at a rapid rate with early bird set to sell out by the end of this week. After these sell out, we will be down to standard tickets only.
SPECIAL GUESTS JUST ANNOUNCED
Toots & The Maytals
Grammy award winning Toots & The Maytals are set to make a very special appearance at House of Common this summer. One of the most influential reggae bands ever, they will provide spectacular support to Madness! The iconic band is led by one of Jamaica's finest and most charismatic singers, Toots Hibbert. The group's back catalogue includes the classic 'Pressure Drop', which was famously covered by The Clash and captured the imagination of a brand new generation of fans. Responsible for over twenty studio albums, they are truly one of the greatest acts of all time! We cannot wait for their exclusive London performance this Bank Holiday Monday.
David Rodigan
"Performing with Madness in London will be, well… madness! Can't wait to bring the reggae and ska music I love to Clapham Common!"
Dubbed as Britain's 'voice of reggae'; David Rodigan MBE, will be rocking the crowds in Clapham Common with a fistful of dub plates. The passionate DJ has been showcasing the sounds of the Caribbean into Britain for over 35 years, and still continues to do so in spectacular fashion. From playing the Pyramid Stage at Glastonbury last year, to launching his hugely successful touring club night, 'Ram Jam', the 64 year old is as hungry for success and relevant as ever. With reggae royalty Bob Marley once making a guest appearance on his radio show, Rodigan's influence and importance within the reggae culture in Britain and the world cannot be denied!
Norman Jay
Co-founder of the Good Times Sound System, Norman Jay MBE is unquestionably one of the most respected DJs in the world. Inspired by his trips to New York in the 1970's, Norman Jay MBE brings fresh sounds of funk, soul, house and disco to every performance. Devoting his life to bringing good music to the masses, it's fair to say that no one wears Britain on their sleeve more than him and it's not hard to see why. He was at the forefront of the Acid Jazz scene and a key player in UK pirate radio, coining the term 'Rare Groove'. Expect a groove and atmosphere like no other.
————————————————————————————————————-
Madness presents House of Common
Bank Holiday Monday 29th August
Clapham Common, London
12.00 – 22.30
Early bird tickets set to sell out by end of this week
www.houseofcommon.co.uk