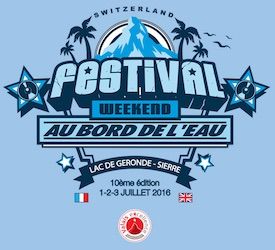 Switzerland's Edge of the Lake Festival announce over 20 acts…
Celebrating the 10th edition of the Festival this year, Switzerland's Week-end au bord l'eau / Edge of the Lake festival returns from 1st – 3rdJuly 2016 in Sierre (Switzerland). Just like a treasure kept in the depths of Geronde Lake, this edition marks the values of a small festival which has adapted itself to the marvels of its environment.
The programming keeps the cape with a musical line up driven around the groove and electronic music by proposing a confirmed artist mixture as the orchestral electro music of Worakls Band, the Norwegian nu-disco music of Lindstrøm, the house music "made in Switzerland" of Deetron, the deep electronica of the Germans Marbert Rocel, or the international funky hip-hop of Guts. The emergent artist as the Belgian electro jazz quartet Stavroz, or the Zurich residents duo Pacifica, members also of the group Kalabrese, come to tease the biggest name of the line-up. The festival does not forget either its models or its sources of inspiration by inviting the founding fathers of the Ninja Tune label Matt Black and Jon More and of the Compost Records label Rainer Trüby and Michael Reinboth.
In addition of this programming comes to be added favourite artists having marked the festival during this decade as the multi skilled genius from Valais Nemoy, as well as the passionate artists of the area Coconut Kings, Imperial Tabasco and Hervé Lenoir. We also find back the beautiful Kathrin de Boer, singer of the group Belleruche, the very friendly old school hip-hop band ASM – A state of Mind or a whole South African tribe made up of Kid Fonque and four singers and dancers of the urban and traditional scene of Johannesburg.
Besides the traditional summer activities such as pedal boat, stand up paddle, petanque tournament or a treasure hunt, numerous educational activities are integrated into the event under the theme of the marine exploration. The Nautiloscope bus arrives from Marseille to offer virtual visits of the deep sea ocean and make sensitive about their pollution. The Natural Reserve of Finges proposes workshops on the development of seaweeds in aquatic environment, and initiations into scuba diving are proposed by a local association.
The visual arts get married this year between them, with numerous collaborations between digital creations, street artists, and sculptors resulting from multiple disciplines and taking place around the lake. The possibility of creating and of seeing flying away its own falling star offers to the public to go to meet these creators in a participative way.
After two editions of decisive tests, the Festival turns officially into cashless technology. The festival-goers will have the possibility of loading in advance an amount on their access or of doing on site directly in cash or by bank or credit card. The 3 days passes are on sale from £25 and numerous packages "Accommodation & Festival" are directly for sale on the Festival website.
FESTIVAL LISTINGS INFORMATION:
WHAT: Edge Of The Lake Festival
WHERE: Sierre, Switzerland
WHEN: 1st – 3rd July 2016
PRICE: £25 for 3 day pass
LINKS:
http://www.aubordeleau.ch/festival/
https://www.facebook.com/festivalauborddeleau
Insta & twitter – @auborddeleau