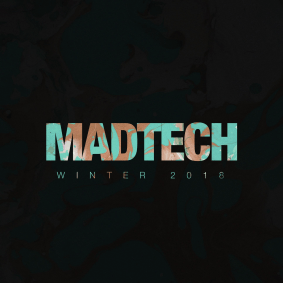 Various Artists - MadTech Winter Sampler 2018
After yet another successful year for the MadTech imprint following releases from the likes of Tough Love, Cera Alba, Devstar and more, they close out 2018 with their annual winter compilation through a collection of dancefloor focussed tracks from some of house music's most exciting names.
Dirty Secretz 'I See You' kicks things off with garage tinged percussion, infectious vocals and pulsating low end before Javi Bora, Iban Montoro and Jazzman Wax's 'Da Groove' delivers enticing bass grooves balanced with clattering kicks and highs. Origins Rcrds' Josh Butler then offers up an energetic roller through shuffling drums and hip hop vocal samples whilst Roog's 'Bubble Push' is filled with hypnotic pads, tasteful vocals and winding synth movements which then follows suit in Relativ's 'Lean Back'.
London's Garry Todd's 'Take Me Higher (Vocal Mix)' delivers a stripped back lo-fi beat balanced with alluring synth waves and a smooth vocal line until Clock's 'Magnitude' displays wonderfully balanced hypnotic textures through meditative dubbed out flutters and a deep bassline. The Glasgow duo Mia Dora then finish things off with 'Myth' through minimal aesthetics, a tension building lead line and Let The Machines Do The Work's uplifting singing.
'MadTech Winter Sampler 2018' is out on MadTech Records on 7th December 2018. Tracklist
Dirty Secretz – I See Y ou
Javi Bora, Iban Montoro, Jazzman Wax – Da Groove
Josh Butler – Like This
Roog – Bubble Push
Relativ – Lean Back
Garry Todd – Take Me Higher (Vocal Mix)
Clock – Magnitude
Mia Dora – Myth (ft. Let The Machines Do The Work)