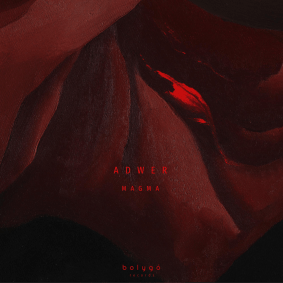 Adwer - Magma EP
Barcelona based, Hungarian producer Adwer returns on his own Bolygó Records imprint with a superb 3 track release of hypnotic, tech-fueled grooves.
Adwer has built a solid reputation over the last few years with his melodic tinged take on underground house and techno garnering support from the likes of Sasha, Joris Voorn and Laurent Garnier. He has also developed a following with a series of unique live shows built around his dedicated synth heavy, analog sound, in fact, it's these very live shows that have given birth to the music on offer on this latest EP.
Opening number 'Plutonism' is lifted from Adwer's latest live set, and delivers six and a half minutes of pulsating, rolling techno populated with dub inflected stabs, skittering rhythms and subtle FX, all underpinned by a floor shaking bassline. The second of the musical trio comes in the form of 'Magma (live edit)', which as the title implies is an edit of a live jam in which Adwer cuts loose with sounds from his extensive synth arsenal. Deep and entrancing, 'Magma' has a mesmerizing feel, brought on in part by the drawn out intro, before the record finds it's groove and draws you deep down into the mix. The third and final part of this package takes shape in 'Beaumont', a melodic synth laden affair that is a perfect closing opus, and as the title suggests, pays homage to a great artist that was one of the artist's big electronica influences from the Nineties.
Adwer shows his undoubted talent once again with this essential new EP.
Tracklist:
1. Plutonism
2. Magma (live edit)
3. Beaumont