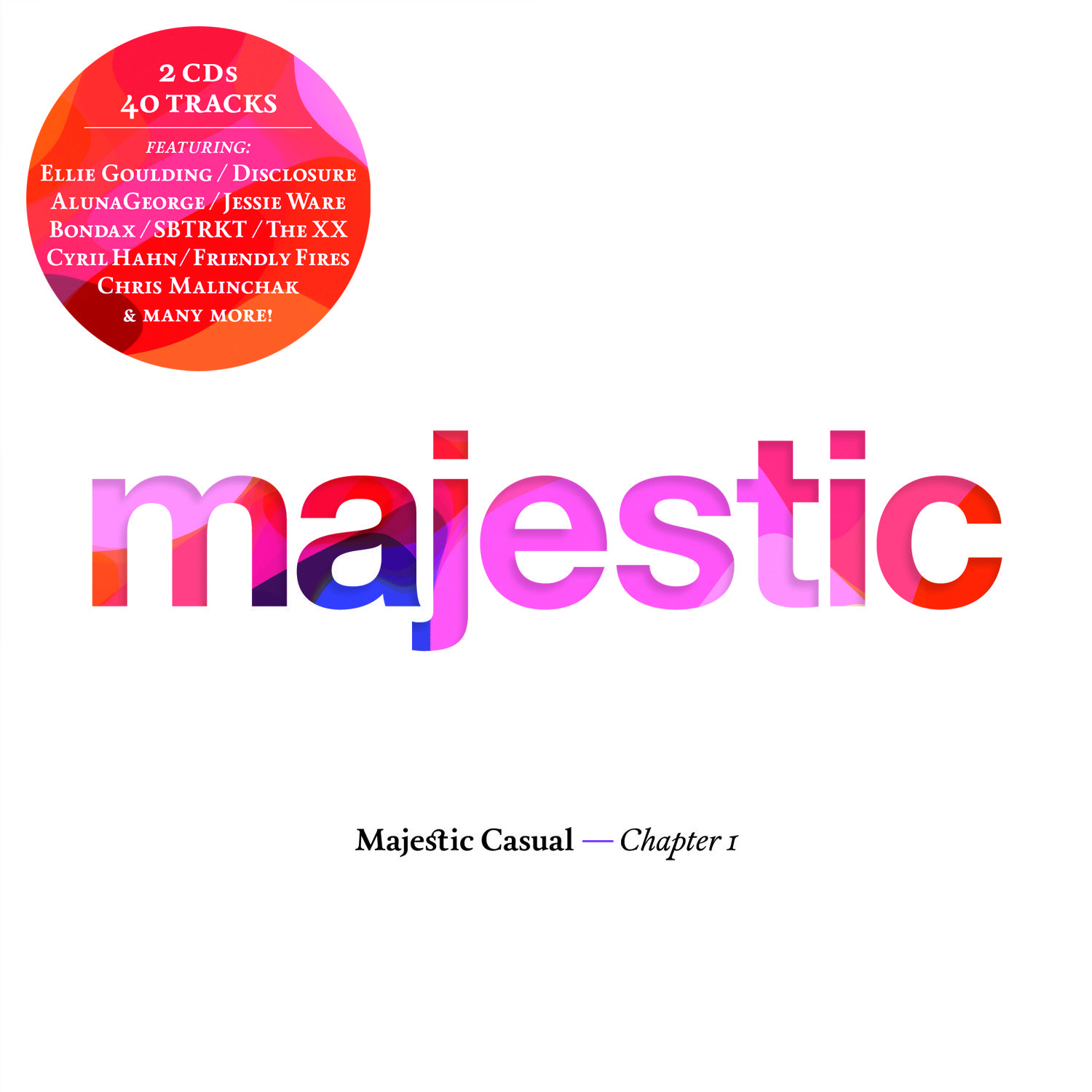 Majestic Casual – Chapter I
40 tracks including Ellie Goulding, Flume, Pedestrian, The xx, Goldroom, AlunaGeorge, SBTRKT, Chris Malinchak, Bondax, Disclosure, Nosaj Thing, Friendly Fires, Jessie Ware and more.
The YouTube channel success story of 2013, Majestic Casual, releases debut album
Music discovery has traditionally been dominated by DJ culture, a privileged group of individuals with the power to break records, artists and new scenes, and while that dominance still remains, today's deeply connected digital world has led to the emergence of 'bedroom tastemakers', a growing band of YouTube channels and individuals with the power to influence millions. At the forefront is Majestic Casual, part of the elite league of YouTube music channels with over a million subscribers… And counting.
Founded in 2012 by 21-year old Nick (in his bedroom in Stuttgart, Germany), Majestic Casual was inspired by a passion for discovering and sharing new music talent. The past 18 months has seen Majestic Casual grow into a worldwide phenomenon. This album, Majestic Casual Chapter I, provides a snapshot of this success, with an extensive 40-track adventure into electronic music's most beautiful outer reaches.
Majestic Casual is the only place online where artists like Redlight, Classix, Bondax and Tensnake could rub shoulders with the likes of Toro Y Moi, Flume, Goldroom and Ellie Goulding… And do so with such smooth, soothing consistency and distinctive imagery. This fusion of finely groomed sounds and well-selected photography instantly resonated with YouTube viewers, striking chords with fans across the globe at a rapid rate.
Free from the stuffy constraints of genre, Majestic's selection process is simple: emotive, soulful and spellbinding music. No other rules or agenda apply. Tailored to accompany all of life's journeys, this is the perfect soundtrack to anything from road trips to reality trips via far-away daydreams and nocturnal narratives…
From its Stuttgart headquarters, Majestic enjoys a unique viewpoint of the musical world. Not wrapped up in any particular city scene, the channel takes influence from every global corner without prejudice or blinkers. Engaging fans the world over, Majestic Casual's fusion of sound and vision has inspired a unique and ongoing dialogue amongst its community.
https://www.youtube.com/majesticcasual