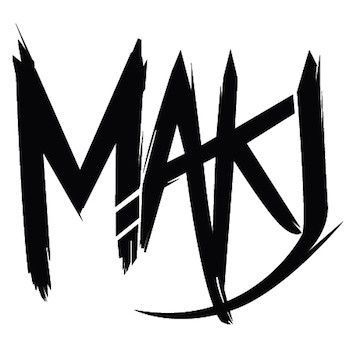 MAKJ Announces Fall/Winter Tour
The dance music world is buzzing about MAKJ (Mackenzie Johnson). For those in the know this is hardly surprising – at the young age of twenty-four, the hotly-tipped electronic producer and DJ has already racked up SIX Beatport Top 10 singles since last year. Not to mention MAKJ's intriguing background – the California native perfected his mixing and scratching skills under the tutelage of the late, great DJ AM, and in years prior existed as a fifteen-year-old pro racecar driver based in China. Now, after three nonstop months zig-zagging the globe between Asia, Europe and North America this summer, MAKJ just announced his Fall/Winter headlining tour that kicked off yesterday in Waterloo, Ontario. With tour dates through December touching down in over thirty cities including Montreal, Las Vegas, Kansas City, Minneapolis, Vancouver, Philadelphia, NYC, Chicago, Boston, festival performances such as Voodoo Festival in NOLA and Groove Cruise in San Pedro and a handful of shows in Mexico, global dance music superstar-in-the-making MAKJ shows no signs of slowing down. MAKJ's full tour routing is below.
Since honing his craft alongside DJ AM, the young producer has pursued a music career at breakneck speed, racking up a slew of chart-topping tracks in the process. MAKJ's staggering portfolio boasts all-star collaborations with Hardwell, Bassjackers, even Lil Jon, and releases on Bingo Players' Hysteria Records, Hardwell's Revealed, Sander Van Doorn's Doorn Records, Michael Woods' Diffused, Ultra Music and Robbie Rivera's Juicy Music. MAKJ's productions have received support from electronic music heavyweights Hardwell, Tiesto, Afrojack, Porter Robinson, Chuckie, Avicii, Laidback Luke, Nicky Romero, Michael Woods, Nervo, Bingo Players, Sander Van Doorn, W&W, Showtek, David Guetta and many others. On top of his many other hats, MAKJ hosts a weekly Clear Channel Evolution radio show airing on 101.7 FM Boston and iHeartRadio.com.
2014 has already seen MAKJ release "Let's Get F*cked Up," a huge collab on Ultra Music with Lil Jon, as well as "DERP", a collaboration with Bassjackers. MAKJ played out these new tunes on his sold-out "Let's Get F*cked Up Tour" across Europe, followed by his first-ever headlining North American tour, with stops at Webster Hall, Ruby Skye, Beta Nightclub and coveted top-billing slots at Coachella, Ultra Music Festival, Northern Lights Festival, Euphoria Festival and more.
In most cases we would recommend to "watch out for this artist," but there is really no need to do so when an artist as talented and dynamic as MAKJ is consistently all over the map.
MAKJ Fall/Winter Tour tickets are on sale now, full details from: http://makj.wantickets.com/.
Full MAKJ tour dates are:
Thurs 9/4 | Guelph, ON | Guelph Concert Hall
Fri 9/5 | Montreal, QC | Villa Paradis
Sat 9/6 | Las Vegas, NV | Drai's Nightclub
Sun 9/7 | London, ON | Block Party London
Fri 9/12 | Kansas City, MO | Dancefestopia
Sat 9/13 | Minneapolis, MN | Spades Nightclub
Sat 9/27 | Chattahoochee Hills, GA | TomorrowWorld
Thurs 10/2 | San Pedro, CA | Groove Cruise
Fri 10/3 | Fresno, CA | Foam N Glow
Sat 10/4 | Las Vegas, NV | Drai's Nightclub
Mon 10/6 | Atlantic City, NJ | Mur.Mur @ The Borgata
Wed 10/8 | Clifton, NJ | Bliss Lounge
Fri 10/10 | Scottsdale, AZ | Maya Beach Club
Sat 10/11 | Vancouver, BC | Pacific Coliseum
Sun 10/12 | Edmonton, AB | Shaw Conference Centre
Fri 10/24 | Philadelphia, PA | LiT Ultra Bar
Sat 10/25 | New York, NY | Webster Hall
Wed 10/29 | Chicago, IL | Studio Paris
Thurs 10/30 | Boston, MA | Whisky Saigon
Fri 10/31 | New Orleans, LA | Voodoo Festival
Fri 10/31 | Houston, TX | Stereo Live
Sat 11/1 | Boca Raton, FL | Sunset Cove Amphitheater
Sat 11/1 | Pompano Beach, FL | Club Cinema
Mon 11/10 | Atlantic City, NJ | Mur.Mur @ The Borgata
Tues 11/11 | Mashantucket, CT | Shrine Nightclub @ MGM Grand
Wed 11/12 | Kingston, ON | Stages Kingston
Thurs 11/13 | Tampa, FL | District 3
Fri 11/14 | Orlando, FL | Firestone Live
Sat 11/15 | Miami, FL | Mansion
Sat 11/22 | Las Vegas, NV | Drai's Nightclub
Wed 11/26 | McAllen, TX | Ice House
Fri 11/28 | Monterrey, MX | Classico
Sat 11/29 | San Luis Potosi, MX | San Luis Club
Thurs 12/4 | Tijuana, MX | Hangar
Fri 12/5 | Mexico City, MX | Gravity
Sat 12/6 | Guadalajara, MX | La Santa
Fri 12/12 | Danbury, CT | Tuxedo Junction
Sat 12/13 | Las Vegas, NV | Drai's Nightclub