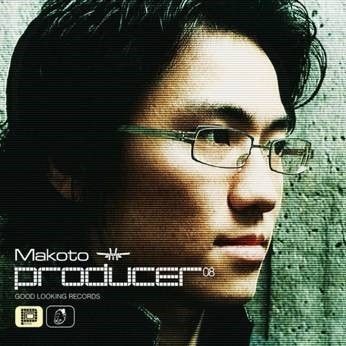 MAKOTO – Producer 08
It's been several long years since Makoto's last album 'Believe In My Soul' dropped on goodlooking but now the veteran drum & bass artist of some 15 years experience is back to bring us the latest installement of GLO's 'Producer' series; a series which has seen the likes of LTJ Bukem, Blu Mar Ten, Seba, Big Bud and PFM all delivering the goods in the past.

Now for 'Producer 08' Makoto brings his trademark soul to proceedings for an album of some of the most accomplished liquid jungle drum & bass music to have graced the shelves in recent years; a true master of the genre, Makoto's music was made for goodlooking.

Opening with two laidback, funk-fuelled Acid Jazz tracks is a refreshing stroke and paves the way nicely for what's to come. From the soothing string sweeps of 'Innerself' to the amen engrossed 'Enterprise', through the jazz leanings of 'Music Has Never Let Me Down' and on to the heavy edits of 'Far East', Producer 08 captures some of the vintage GLO virtues of yesteryear while laying down some of the most forward thinking drum & bass grooves that'll make your mouth water. A future classic long player for dance floors and home speaker systems alike, this one's essential.