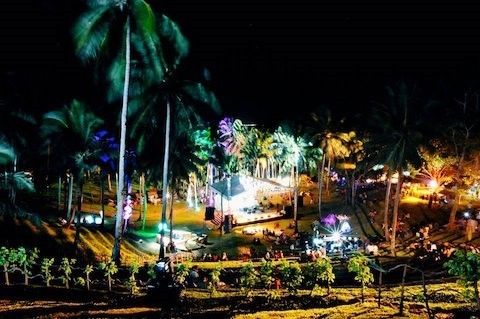 Malasimbo Music & Arts Festival double weekender
In 2011, the first Malasimbo Music & Arts Festival took place in Puerto Galera, Philippines, and became a catalyst for a boom in contemporary festival culture. A natural amphitheater boasting of coconut trees, grass-terraces, the tropical breeze, coupled with the view of the world famous Puerto Galera Bay, there really is no other place like Mt. Malasimbo.

The festival weaves Music, Arts, Environment, and Indigenous Culture into one life-changing adventure.

Every year, people from all walks of life seek the Malasimbo Experience. The festival continues to grow into a global phenomenon, with more than 5,000 people from over 30 countries in attendance. It is the Philippines' first event of its caliber, and is a top attraction in the Department of Tourism's campaign, "Visit the Philippines Year 2015."

Known for quality sound, the Malasimbo Amphitheater is praised by musicians and listeners alike. The many acts that have played, including legends Jimmy Cliff, Roy Ayers, Joe Bataan, Robert Glasper and Jose Gonzalez, were entranced by the beauty and energy of the place. The stage is also abundant with local talent hailing from the different parts of the Philippines. It has become a platform where collaboration between international and homegrown music can ring around the island, as clear as the waters surrounding it.
The Sculpture Garden is a world of artistic wonders, brought to life by the creative expressions of Agnes Arellano, Olivia d'Aboville, Dondi Katigbak, Billy Bonnevie, and many other artists. Using biodegradable materials, each unique installation stands out without looking out-of-place. The mix of man-made works within nature's backdrop is a collaborative art piece in itself. Strolling through the garden is like being in a dream–surreal and captivating. This visual masterpiece, in harmony with the soul-swaying sound from the stage, makes for a synesthetic experience.
Eco-cultural preservation is an integral part of the Experience. With The d'Aboville Foundation, the festival promotes mangrove and tree planting, the use of solar power, the protection of the endangered Tamaraw, coastal cleanups, and other ongoing projects within Puerto Galera—one of the "Most Beautiful Bays in the World." At the heart of Malasimbo is the Mangyan tribe, where exhibits and workshops showcase their rich culture and exquisite crafts.
This March, the festival will launch a 5th year anniversary special with exciting new additions, including a new twist on the legendary Malasimboat parties. The Malasimbo Festival is an experience-driven event—regardless of the lineup of acts, one is sure to have an unforgettable time. The biggest headliner in Malasimbo is Malasimbo, and for those who seek culture, adventure, and magic, this is the place to discover it.
Full line up coming soon. Please check out www.malasimbo.com for all the latest news.

//////////////////////////////////////////////////////////////

FESTIVAL LISTINGS INFO:
WHAT: Malasimbo Music & Arts Festival
WHERE:Puerto Galera, Philippines
WHEN: March 6-9th & March 13th -16th
PRICE: £95 for early bird 3 day festival pass
WEBSITE:www.malasimbo.com // https://www.facebook.com/Malasimbofestival