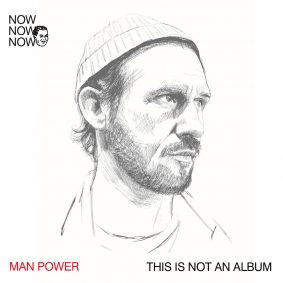 Man Power – This Is Not An Album
Man Power launches Me Me Me sister label Now Now Now with 'This is Not An Album' landing today.
NOW NOW NOW is a new, rapid-fire label offering from Me Me Me's Man Power. It kicks off with an adventurous eight track release that is the artist's most musically varied collection since his eponymously titled album back in 2015.
That album showed off a wide range of studio skills that have been backed up with hugely well received EPs on labels including Correspondant, DGTL, Futureboogie and of course Me Me Me. In addition, remixes for the likes of DFA, Skint & Roxy Music have shown Man Power to be one of the most eclectic and unrestricted artists of the day.
This new label will work with newer musical voices, as well as well-established names, with none of the restrictions that come with the vinyl format. Says the artist himself, "By no means a poor cousin, and in every way a sexy younger sibling, NOW NOW NOW is a response to the limitations of the vinyl format, and a love letter to the amazing opportunities digital delivery provides. It exists to allow us to release exciting music as quickly as we hear it, and permits us to present more exciting and experimental excursions that speak of the moment when they were made, without waiting a year or more for a release date, due to the rigours of physical production."
Opener 'Ghost' sets a rumbling and deep but mid-tempo techno tone that has you gazing at the melody work, while 'Bi Product' is a whirlwind of freeform synths and scintillating disco chords. The terrific 'I Feel Luv' is a computer in meltdown with glowing drones and corrugated drums, then things pick up with the masterfully jumbled drum work of 'Juzwunq' and ping-pong kinetic energy of reverberating percussive masterpiece 'Murder Depot'.
The brilliance continues on deep acid workout 'Bullwinkle' with its barely restrained piano stabs and gurgling 303, 'Simplex' is then a trance-inducing cut with ecclesiastic chords sure to get hands in the air and 'Asale Asale' rounds things out with a flurry of toms, edgy chords that keep you in suspense and rubbery kicks. This is club music at its finest.
'This is Not An Album' is a fantastic first release from this exciting new label, with more planned form Ben Caldwell, Wes Baggaley, Jaye Ward and AS7, as well as established artists including Fairmont, Marc Pinol and DIY 1990. Now Now Now's release artwork will also feature unique hand sketched drawings of the acts involved.
Tracklist:
1. Ghost
2. Bi Product
3. I Feel Luv
4. Juzwunq
5. Murder Depot
6. Bullwinkle
7. Simplex
8. Asale Asale